We welcome you to our vegan week review!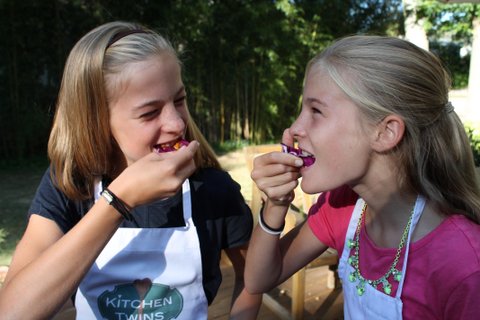 You might wonder:
• What is vegan exactly?
• Why a vegan week?
• Is it hard to be vegan?
• Does vegan food taste good?
• Will vegan food fill you up?
• Do we recommend a vegan week?
All these things mattered to us so they might matter to you too.
We aren't vegan all the time, Emily is a vegetarian and Lyla is a pescatarian. What's the difference? A vegan is someone who does not eat any animal products – so no meat or seafood of any kind and no products that come from animals including honey, eggs and dairy. A vegetarian does not eat any meat or seafood but will eat honey, dairy and some will or won't eat eggs (we do). A pescatarian follows a vegetarian and eats seafood. The reason we became stopped eating any meat in the first place was because we were on a farm and we saw the cutest cow. That cow's name was Molly, and she was a meat cow. Seeing where our food came from in person and that it was a living breathing animal got us thinking on whether we really needed to eat animals. A couple days after that we decided that we would not eat any meat, and here we are now.
Why a vegan week? We thought going totally vegan for a week would be a challenge and a fun experience because we love all of the unique foods and recipes. We've been inspired by Chef Chloe Coscarelli a vegan chef who won Cupcake Wars and owns a vegan restaurant.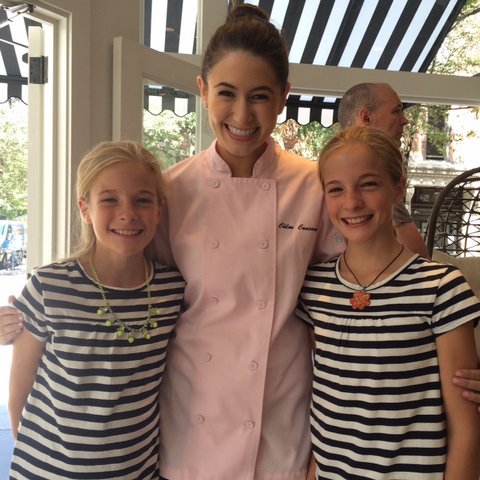 Was it hard to be vegan? Our vegan week was tough at the beginning because we love cheese, but then you get used to not eating all of those dairy delicacies.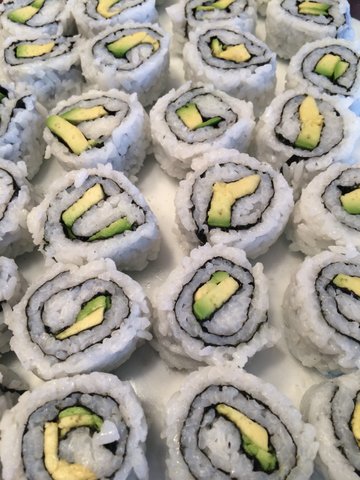 Did our vegan food taste good? Yes! We ate maple tofu with coconut rice, homemade veggie sushi, , veggie mac and cheese (made from butternut squash) and quinoa, lentils and mung beans with lots of veggies and fun sauces. We made a pizza with flax eggs and vegan cheese. We own a bunch of Chloe Coscarelli cookbooks-we love them and cook from them all the time! Two of our favorites are her pineapple rice stir-fry with vegetables and broccoli soup. If you visit New York you have to go to her restaurant called byChloe – that will prove how yummy vegan food is.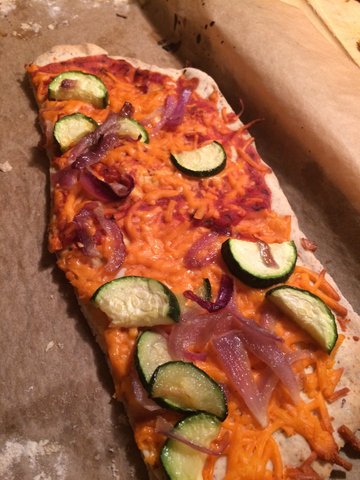 Did the vegan food fill us up? Yes! We both have BIG appetites so it had to. We didn't just eat fruits and vegetables but ton of beans and power grains.
Do we recommend doing vegan week? Yes that way you get to try more recipes and have a food adventure! You can get cookbooks out of the library too.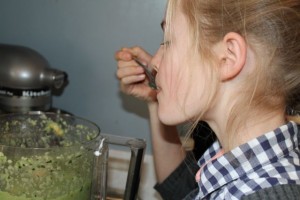 As for us? We will definitely do vegan week again. We love trying new foods and recipes and experimenting with ingredients (sometimes our experiments work and sometimes they don't).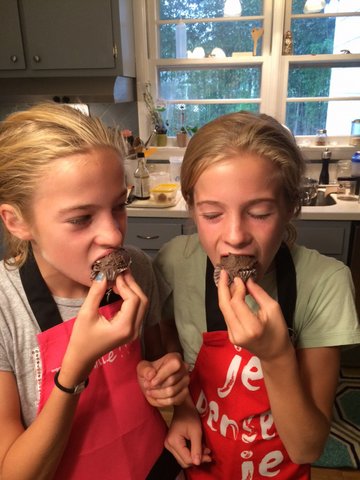 Here are some easy substitutes:
Eggs- We love to use chia eggs for our baking. You mix 1 tablespoon of chia with 3 tablespoons of water to equal one egg. (Then you get to eat the batter!) Also we just tried flax eggs in the pizza and that worked well.
Milk- Our family loves to drink almond milk, but you also can use soy, coconut or oat milk.
Honey- Instead of honey you can use maple syrup, sugar, brown rice syrup (consistency of molasses) or agave.
Cheese- You can buy pre made vegan cheese, make your own (they usually contain cashew), or nutritional yeast (Lyla's favorite).
Broth- Vegans don't eat chicken broth, seafood broth, or any other broths that come from animals. You can use vegetable broth. We also use coconut milk.
Here is one of our favorite recipes! Coconut Rice & Maple Tofu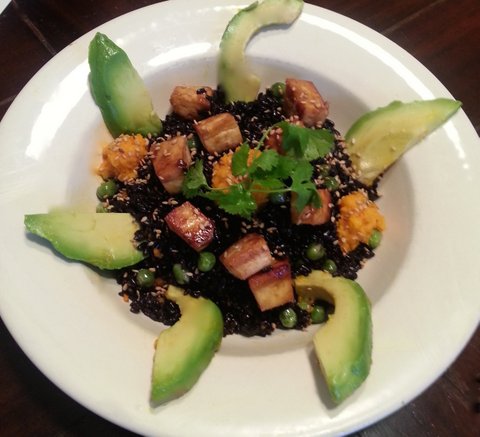 Ingredients (serves 4)
1 block extra-firm tofu
1 tablespoon tamari or soy sauce
2 tablespoons maple syrup
1 1/2 cups coconut milk (full fat)
1/2 cup water
1/8 teaspoon salt
1 cup Thai forbidden rice
3/4 cup frozen peas
1 avocado, sliced
Sesame Seeds, Cilantro or parsley (for optional garnish)
Instructions
1. Preheat oven to 375. Grease a cookie sheet or line with parchment.
2. Drain the tofu, slice it into ½" slabs, and put it between layers of paper towels. Place a cookie sheet on top of the tofu and press to help squeeze out the water. You can place something heavy on cookie sheet as well, such as a kettle of water. Let stand for 15 minutes. Remove the tofu and cut into into 1" cubes.
3. In a bowl, combine tamari, maple syrup. Add tofu toss to coat. Place tofu on cookie sheet, and put in oven. Bake, flipping occasionally, until the tofu browns, about 30 minutes.
4. While the tofu is baking, make the rice. Combine the rice, coconut milk, water, and salt in a saucepan. Bring to a boil, stir, reduce heat to a low simmer and cover. Cook until the rice is tender and the liquid is absorbed, about 30 minutes for Thai rice. In the last few minutes of cooking time, stir the peas into the rice. Cover. When rice is done, remove from heat for 5 minutes before serving.
5. Divide the rice among serving bowls, and top with the tofu, avocado slices. Garnish with cilantro or parsley.
.
Enjoy!
Emily and Lyla, The Kitchen Twins
Folllow our journey on facebook, instagram, youtube, twitter and swggr.