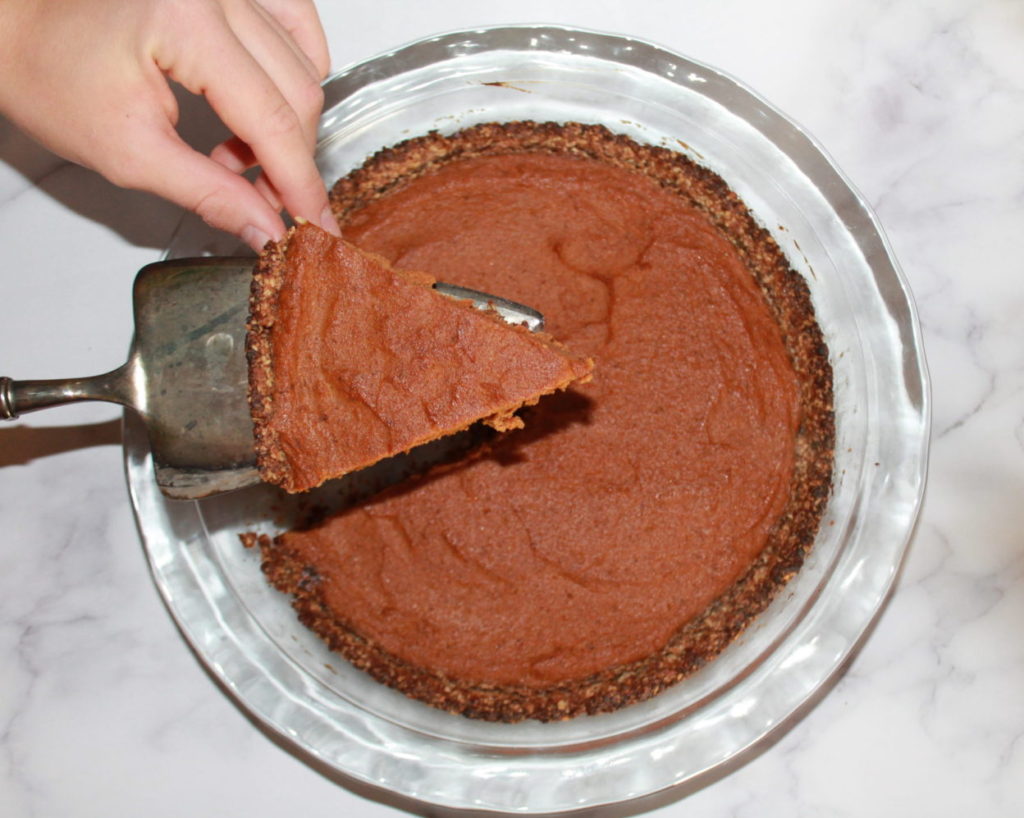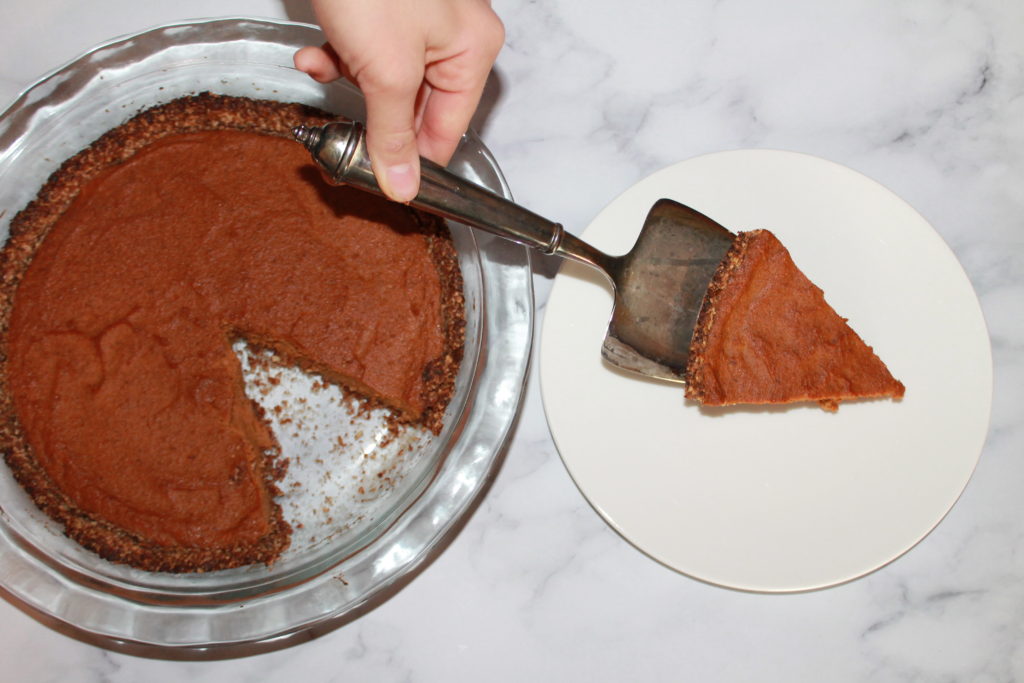 This pie is so good and we love that it's healthy so you know you can have 2 or more helpings! What makes it healthy? It's free of any refined sugars and we use whole and nutritious ingredients. We use dates to sweeten this and it's really good and perfectly sweet. Thanksgiving is just a few days away, so get cooking! This pie tastes better and more flavorful than regular pumpkin pie with a silky smooth filling and a flaky crust.
We are thankful for everyone who helped with our cookbook process this year and all of our supporters. And of course, our friends, family, and this pie!

What You'll Need
For the crust:
• 1/2 cup pecans
• 1/2 cup old fashioned rolled oats (not quick oats)
•3/4 cup packed, pitted dates
•1 tablespoon melted coconut oil (measure before melting)
For the filling:
• 1/2 cup pitted dates
• 1/3 cup milk (we use almond milk)
•1 cup pumpkin purée (not pumpkin pie filling)
•2 eggs
•1 teaspoon vanilla extract
•1 tablespoon pumpkin pie spice
•1/8 teaspoon salt (we like sea salt for this)
To Make
Preheat the oven to 350ºF.
Crust:
To make the crust, blend the pecans and oats until semi-fine in a food-processor. Add the dates and process until ground up (note, dates are sticky, so be patient with these. They help act as the bind and sweetener of the crust). Then add the coconut oil to the food processor and blend until the dough can be pinched to hold its shape, refer to the photos to see. Press your dough, using a spatula or hands, evenly into a greased 9.5 inch pie pan. Pre-bake for 10-12 minutes (pre-bake meaning, you bake the crust before you add the filling). Allow to cool for 10 minutes before adding the filling.
Filling:
While the crust is baking and cooking, prepare the filling. In a high speed blender or food processor, blend the dates and milk until smooth. (blend until it's smooth you don't want it chunky). Then add the rest of the ingredients and continue to blend until a silky consistency is reached. Pour into the pie crust, but make sure the filling doesn't go over the crust. Bake for 30 minutes, then cool completely. Enjoy with whipped or ice cream or on its own!