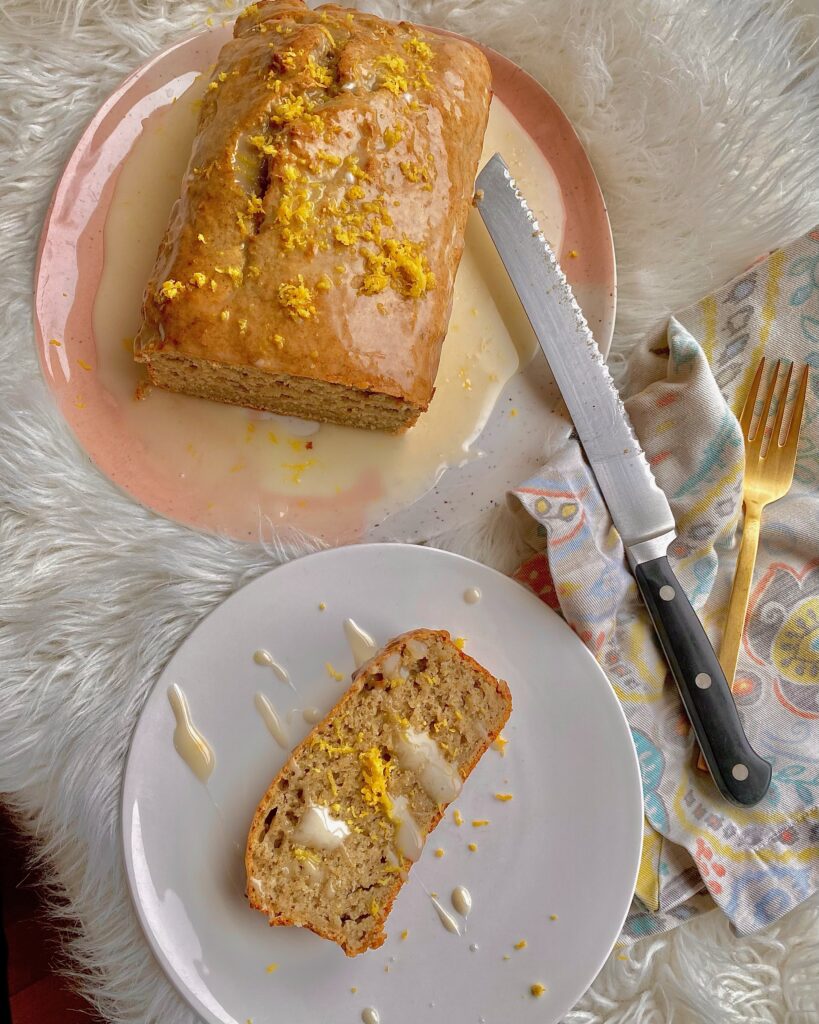 Spring is almost here and we are pulling out one of our favorite spring flavors for this recipe: LEMON! We love to use the zest and juice because of the extra flavor. This recipe is not only healthy, but vegan and you can easily make it GF by using only oat flour. The loaf itself has limited added sugar, and simply drizzle some extra lemon juice over the top if you don't want powdered sugar (but trust us – IT IS WORTH IT!) The texture is crispy on the outside and soft on the inside – name a better combo! We kid you not – we devoured this so fast we ran into the kitchen to make another batch.
What You'll Need
1 banana
1 cup canned coconut milk
1/3 cup apple sauce, unsweetened
1/4 cup sugar
2 flax eggs (2 tsp flax + 6 T water, let gel)
1 tablespoon chia seeds
1 tsp almond extract
1 tsp vanilla extract
zest and juice of two lemons (plus more for glaze)
3 cups flour (we like to mix regular and oat)
1 teaspoon baking soda
1 teaspoon baking powder
1/2 teaspoon salt
How To Make
Preheat oven to 350ºF. Blend the wet ingredients until super smooth. Mix in a large bowl with the flour, baking soda, baking powder, and salt until fully combined. Be careful you do not over mix because of how light the texture is. Grease a baking tin and pour in the batter. Bake for 55-60 minutes, until golden brown on top and a toothpick comes out smooth. The loaf is that easy! Now for the best part: the glaze. We generally juice and zest one lemon. To the juice, we add powdered sugar, just enough until thick (usually around 1/2 cup). Pour over the cooled loaf and sprinkle with the zest. Now dig in!