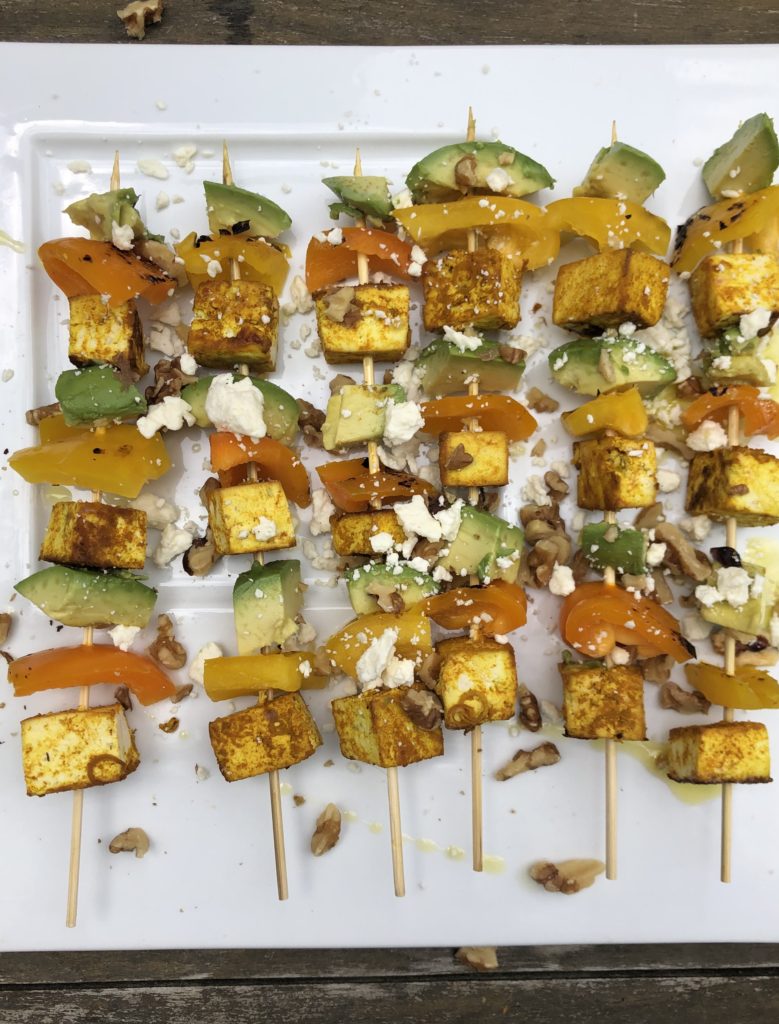 Easter is right around the corner, and we decided to whip up these Lemongrass Tofu Kabobs just for it! Whether you are having a barbecue, need some appetizers, or you want something tasty to put in your mouth, these are perfect on any and every occasion! So enjoy and relax over this long weekend and try not to eat all of the kabobs by yourself like us – sharing is caring!
Makes: 12 kabobs
What You'll Need
• 1 18oz block of firm tofu
• 1 tablespoon sliced lemongrass
• 2 tablespoons lemongrass liquid (this typically comes from a jar of sliced lemongrass)
• 1/4 teaspoon onion powder
• 1 teaspoon rice wine vinegar
• 1 teaspoon soy sauce
• 1/2 tablespoon turmeric powder
• 1/8 teaspoon salt
• 1 teaspoon honey
• 1 ripe avocado
• 2 lightly charred bell peppers (you can do this by placing the peppers on an open flame and rotating until lightly charred)
• olive oil (to drizzle)
• chopped walnuts
• crumbled feta cheese
• wooden kabob sticks (about 12)
To Make
Preheat oven to 375º F and line a baking tray with parchment paper.Lightly wipe off excess liquid from the tofu block then cube (into about 36 pieces). Line the tofu on a tray. In a bowl, mix together the sliced lemongrass, lemongrass liquid, onion powder, rice wine vinegar, soy sauce, turmeric powder, salt, and honey. Then pour evenly over the tofu and make sure each side is coated with the mixture. Bake the tofu for 25 minutes, flipping it halfway through. Let cool. Using wooden kabob sticks, place the tofu, pepper and avocado in an alternating pattern. Top with a drizzle o olive oil, chopped walnuts, and crumbled feta.
Enjoy!
Emily & Lyla