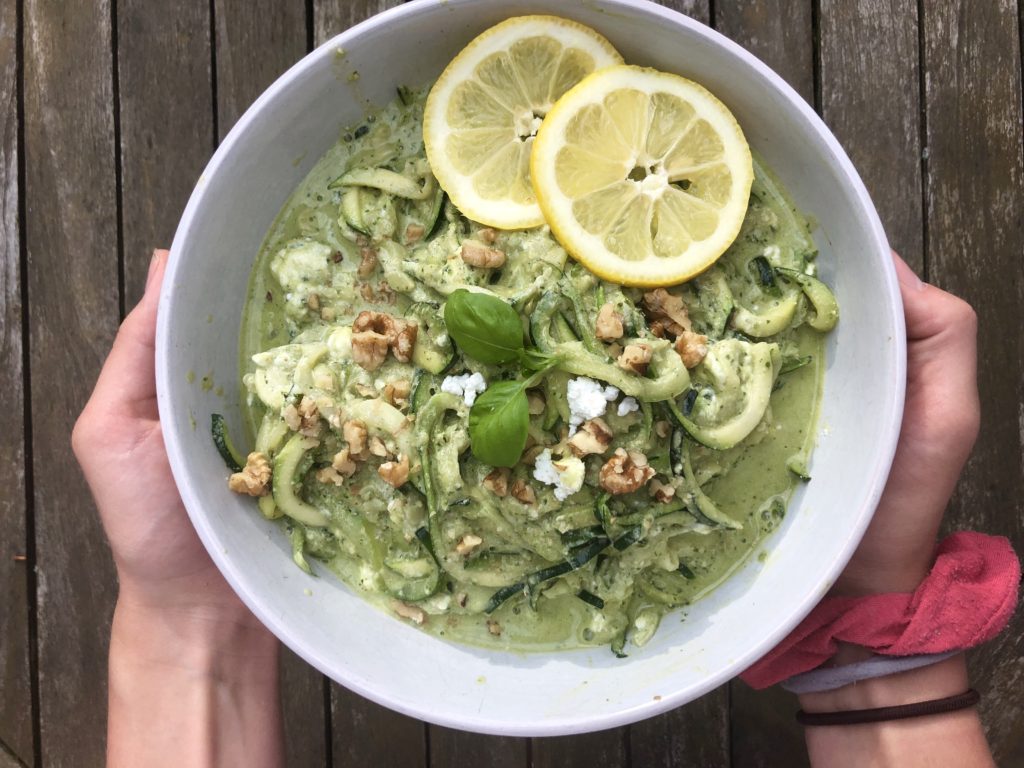 When you have a healthier version of pesto pasta that is also BETTER than anything you have ever tested, it is going to be hard to resist. These pesto zoodles topped with crumbled goat cheese may seem to melt in your mouth, but they are also low cal, full of vitamins, potassium, and fiber, gluten-free, and only take about 15 minutes to make! So enjoy this healthy delicacy!
Makes: 3-4 servings
What You'll Need
• 4 large, washed zucchinis
• 2/3 cup plus 2 tablespoons olive oil
• 2/3 cup raw walnuts
• 2 cups packed, fresh basil
• 2/3 cup parmesan
• 1 medium size garlic clove
• 1 tablespoon greek yogurt
• Juice of half a lemon
• 1/4 teaspoon salt
• 4 oz crumbled goat cheese
To Make
Cut the ends off of the zucchini and spiralize each using either a spiralizer or julienne peeler. In a (very!) large pan, add 2 tablespoons of the olive oil and heat on medium. Cook the zucchini for about 8 minutes, stirring often. While the zucchini is cooking, put the walnuts, basil, parmesan, garlic clove, greek yogurt, lemon juice, salt and the rest of the olive oil into a food processor and blend until desired consistency. In a large bowl, toss the zoodles with the pesto and top with the goat cheese.
Enjoy!
Emily & Lyla