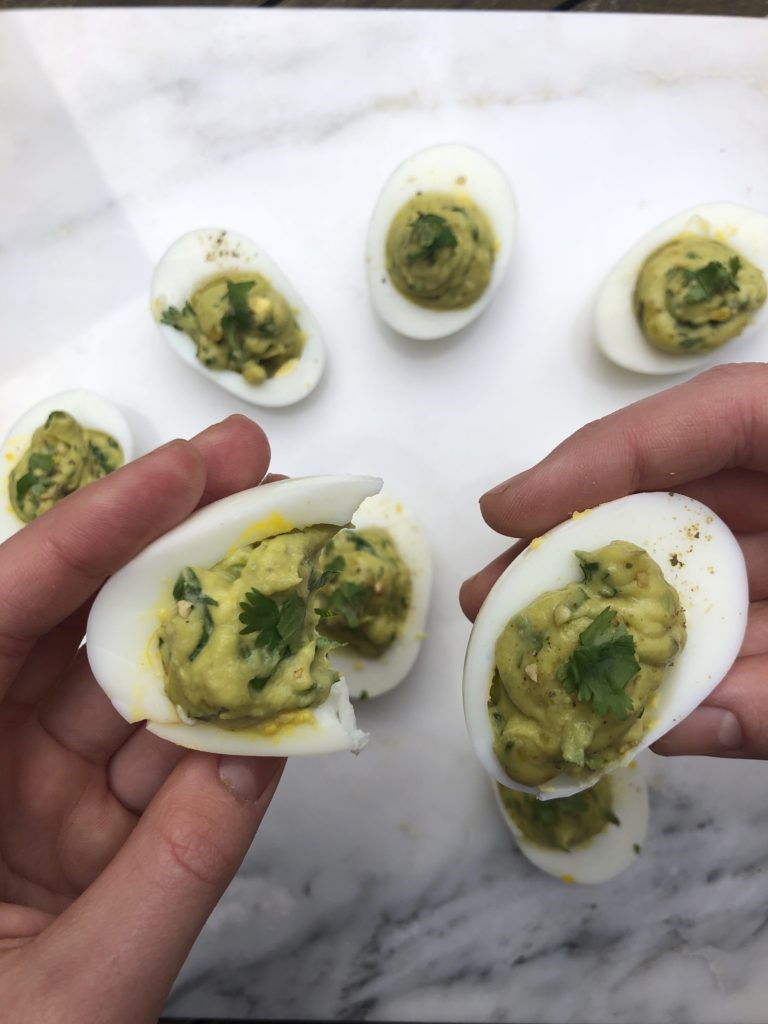 Full of amazing flavor and texture, these Green Goddess Deviled Eggs will blow your mind! With a variety of ingredients you might not expect in deviled eggs, like greek yogurt, they are not only a healthier alternative, but a tastier one. They are great for an on the go snack, lunch, make ahead appetizer, or a side for dinner. They are so good we ate them all! Yup – just the two of us (even our parents didn't get to try them the first time we made them). So enjoy, and if your like us, you will make these over and over again. 
Makes: 10 deviled eggs
What You'll Need
• 5 eggs
• 1/2 ripe avocado
• 1/4 cup finely chopped and washed parsley
• 1/2 tablespoon lemon juice
• 1/4 teaspoon salt
• 1/8 teaspoon picante salt seasoning (if you don't have this, you can make a batch using salt, jalapeño powder, garlic powder, dried cilantro, and dried oregano)
• 1/4 teaspoon minced garlic
• 2 tablespoons greek yogurt
To Make
Fill a sauce pan with water and bring to a boil. Cook the eggs for 8-9 minutes. Place the eggs in an ice water bath then carefully peel and slice in half. Scoop out the yolks and add to a medium sized bowl along with the avocado, parsley, lemon juice, salt, picante salt seasoning, garlic, and yogurt. Mash the mixture until creamy. Using a piping bag (if you don't have this you can use a regular ziplock sandwich bag and cut a hole at the end), evenly distribute the filling in the hole of the whites of the egg. Top with some more fresh parsley and enjoy!