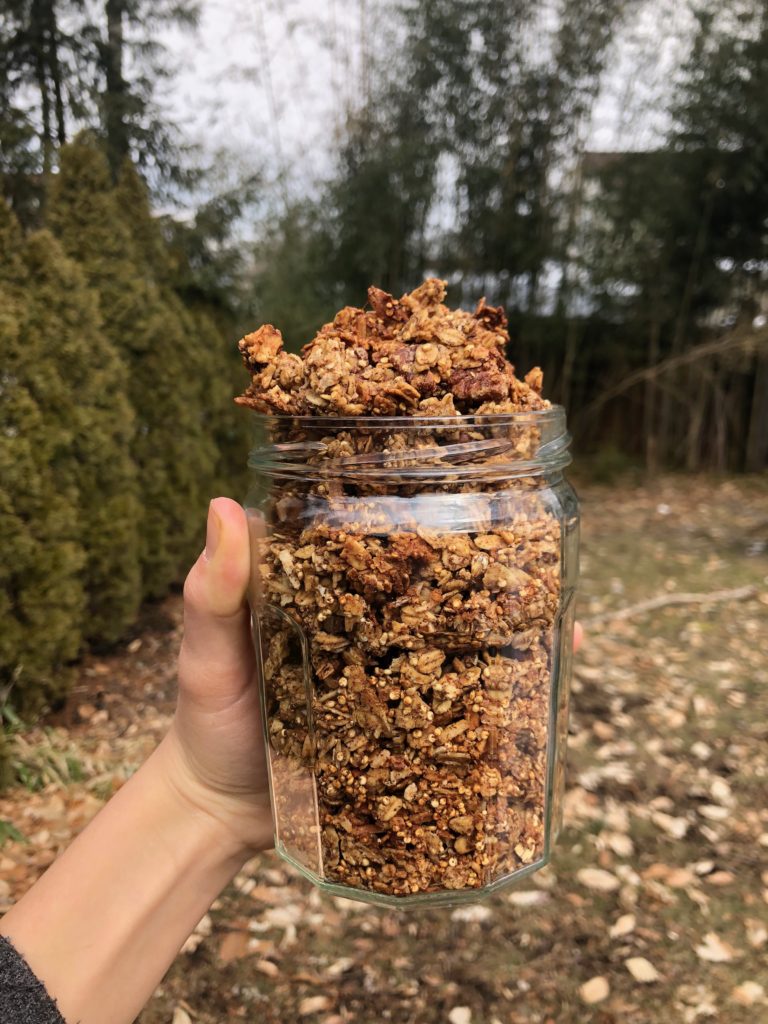 We've been wanting to have granola in our house, for a snack, for a couple of weeks now but never got around to doing it. Meanwhile, our nut supply has been slowly dwindling down limiting our granola filled possibilities. Finally, we got out some oats and whatever else we could find and wondered what flavor to make. This was when we needed to go shopping so our options were smaller. We happened to glimpse an overripe banana in our fruit bowl and suddenly craved our favorite nut butter banana bread. But wait, we needed to make granola, and that's when this idea came to us. Almond butter banana bread granola. We tested it out and it was so good we just had to share it. This recipe is totally fool-proof and feel free to add whatever you might like to it because you can't mess it up. It's crunchy, crispy, perfectly sweet and gone within an hour so maybe double the batch. It's also very accommodating being gluten-free and vegan, and if your sugar-free hold off on the maple/honey and add a half of a banana, or some chopped up dates (our favorite substitute), or even 2-3 tablespoons of unsweetened applesauce. Coming up with substitutes like these are super fun and it's a bonus because we get to eat more of this super simple, super delicious, super healthy, and super addictive almond butter banana bread granola!
Makes: about 4 cups of granola
Prep time: 10 minutes
Cook time: 25 minutes
Total time: 50 minutes (15 for cooling)
What You'll Need
• 1 1/2 cups old-fashioned rolled oats (make sure these are gluten-free if you want gluten-free granola)
• 1/2 cup unsweetened shredded coconut
• 1/2 cup chopped pecans
• 1 tablepoon cinnamon
• 1/8 teaspoon salt
• 1/2 teaspoon nutmeg
• 1/4 cup uncooked hemp hearts
• 1 tablespoon maple syrup/honey (sub this if you want sugar-free granola)
• 1 tablespoon canola oil
• 1/2 cup almond butter
• 1 (over)ripe banana
Food Swaps:
Swap the hemp for chia seeds.
Swap the canola oil for coconut oil.
Add a tablespoon of cocoa powder for chocolate granola.
To Make
Preheat your oven to 325ºF. In a large bowl, mix the dry ingredient together. In a small bowl, mash the banana and add the remaining ingredients, stirring until smooth. Add the wet mixture to the dry and stir until evenly distributed. Spread out on a parchment covered sheet tray. Cook on the center rack for 15 minutes, then stir and cook for another 10 minutes. Allow to cool for 15 minutes and enjoy as cereal, a snack, on top of yogurt or a smoothie bowl, or straight off the pan!
Lyla and Emily