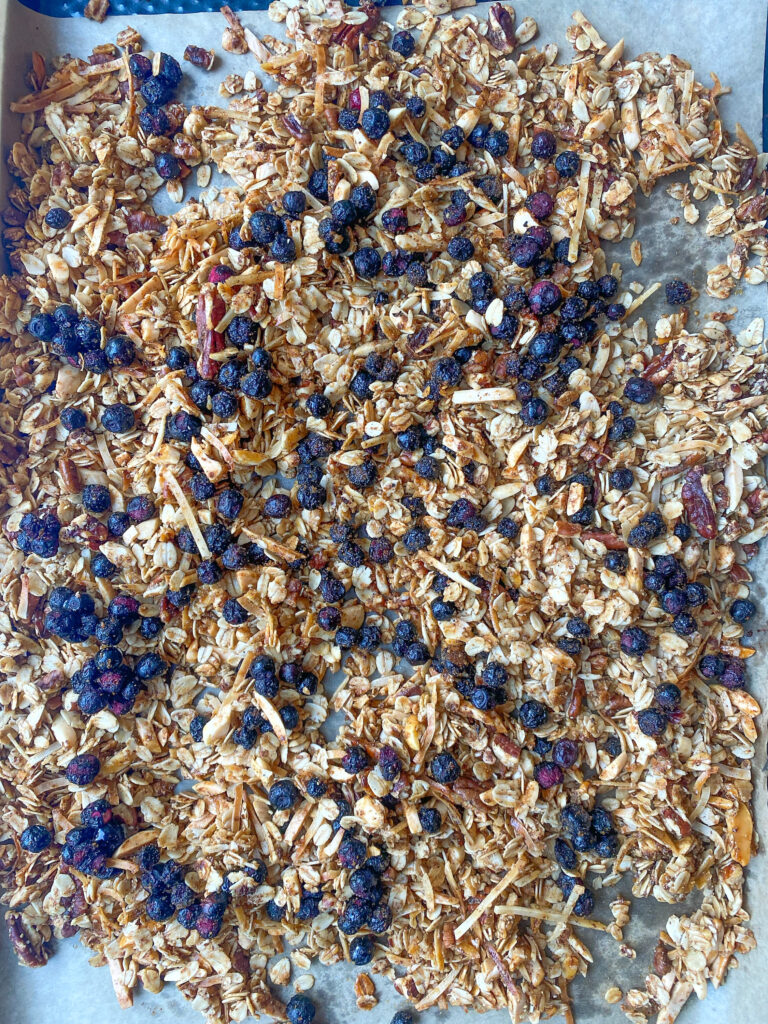 Our granola obsession continues… This time we are spicing it up with a fruity twist alongside our go-to granola ingredients. What is better than a blueberry crisp or granola? The two of them together! It has a perfectly honey spiced flavor and the best clustery goodness (if you can wait to eat it all before it cools)! We love eating it straight off the pan, on top of a smoothie, with cereal for an extra crunch, or in a yogurt parfait.
What You'll Need
1.5 cups old fashioned rolled oats
1/2 cup unsweetened flake coconut
1/2 cup slivered almonds
1/2 cup chopped pecans
4 T melted coconut oil
2 T flax seeds
1/4 cup honey
1 tsp cinnamon
1/4 tsp nutmeg
Pinch of sea salt
2/3 cup freeze dried blueberries
1 tablespoon coconut sugar
1/4 teaspoon almond extract
How To Make
Preheat oven to 325ºF and line a baking sheet with parchment paper. Mix the oats, coconut, almonds, pecans, flax seeds, cinnamon, nutmeg, and sea salt until combined. Mix in 3 tablespoons of the coconut oil and the honey until fully coated. It will be easier to mix if the honey is warm. Spread out evenly on the sheet and bake for 20 minutes, stir, and bake for 10 more. In a small bowl, mix the blueberries,1 tablespoon coconut oil melted with the coconut sugar, and almond extract. Add to the warm granola when it comes out of the oven and stir until combined. Let cool to allow for the clusters to form then enjoy!