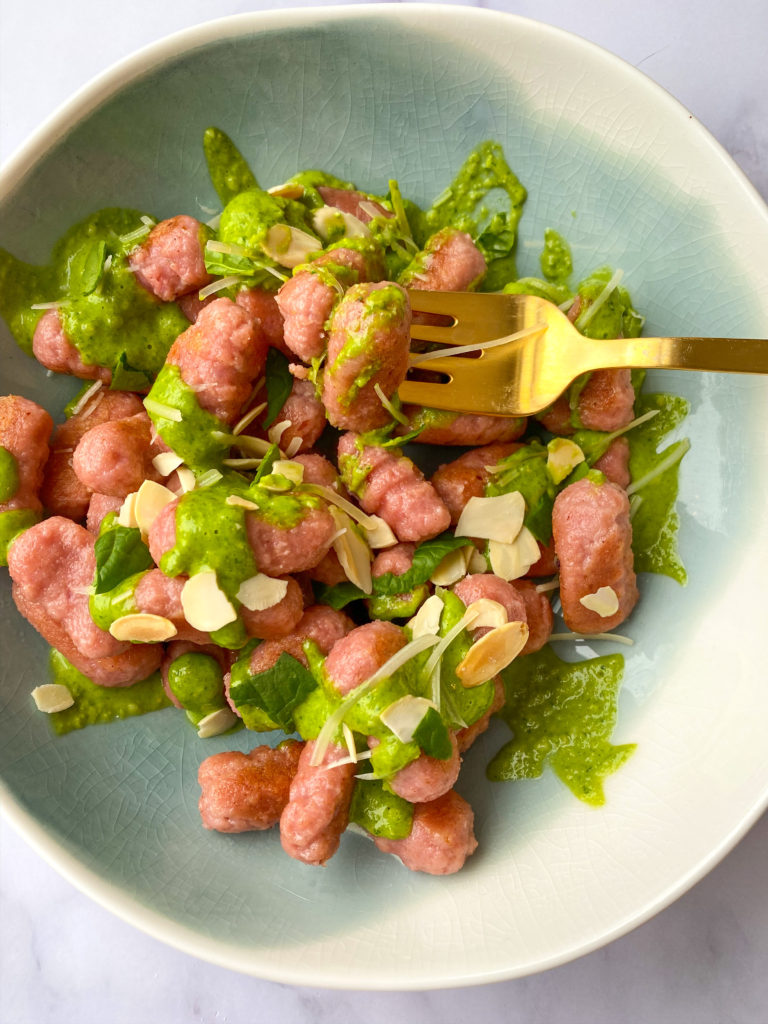 We love fun colored food and this beet gnocchi is our perfect fix especially since it is naturally pink! This gnocchi is perfect for Valentine's Day (or really any other day!!) and instead of celebrating by exchanging chocolate or sweets with our family and friends, we thought that we should make a pink entrée. Beets give this gnocchi an extra boost of flavor while adding that perfect pink touch. And contrary to usual belief about pasta making, gnocchi is actually quite simple and fun to make since you get to work with dough and roll it out. Enjoy this with pesto (our favorite), red sauce, and/or lots of cheese!
What You'll Need
1 large potato
8 oz pre-cooked beets*
1 cup ricotta cheese
1 egg
1/3 cup shredded parmesan
1 teaspoon salt
a few cranks of pepper
4 cups oat flour*
To Make
Bring a small saucepan of water to a boil. Peel the potato and chop into small cubes (about 1/2 inch pieces). Boil for 12-13 minutes or until soft when tested with a fork. Meanwhile, purée the beets, egg, ricotta, parmesan, salt, and pepper then blend until smooth. Add the potatoes (drained) and do the same. Transfer to a large bowl, add the flour, and mix first with a spatula then with your hands until well combined. Flour a surface (we like using parchment paper with flour for this or some other smooth surface) and roll out the dough in sections (using your hands) until it is about 1/4 inch thick. Then cut into 1/2 inch wide strips. After, cut cubes out of the strips using 1/2 inch increments. Roll each of these pieces into a ball, then press and roll onto a fork to get the traditional gnocchi appearance. Bring a sauce pan with a few inches of water to a boil. In small batches (usually about 6-8), boil the gnocchi. Once the gnocchi has risen, cook for an additional minute and a half. Take out with a slotted spoon and sauté on medium heat for about 3 minutes in an oiled pan. We tend to multitask while doing this and have these two cooking steps going on at once. Enjoy warm with your favorite sauce!
*Notes
we buy the beets pre-cooked in a can or refrigerated section at the grocery store because it makes our life a lot easier!
we made these with oat flour that we made in our blender, but you don't have to use it, it was really cool to see oat flour gnocchi taste the same!