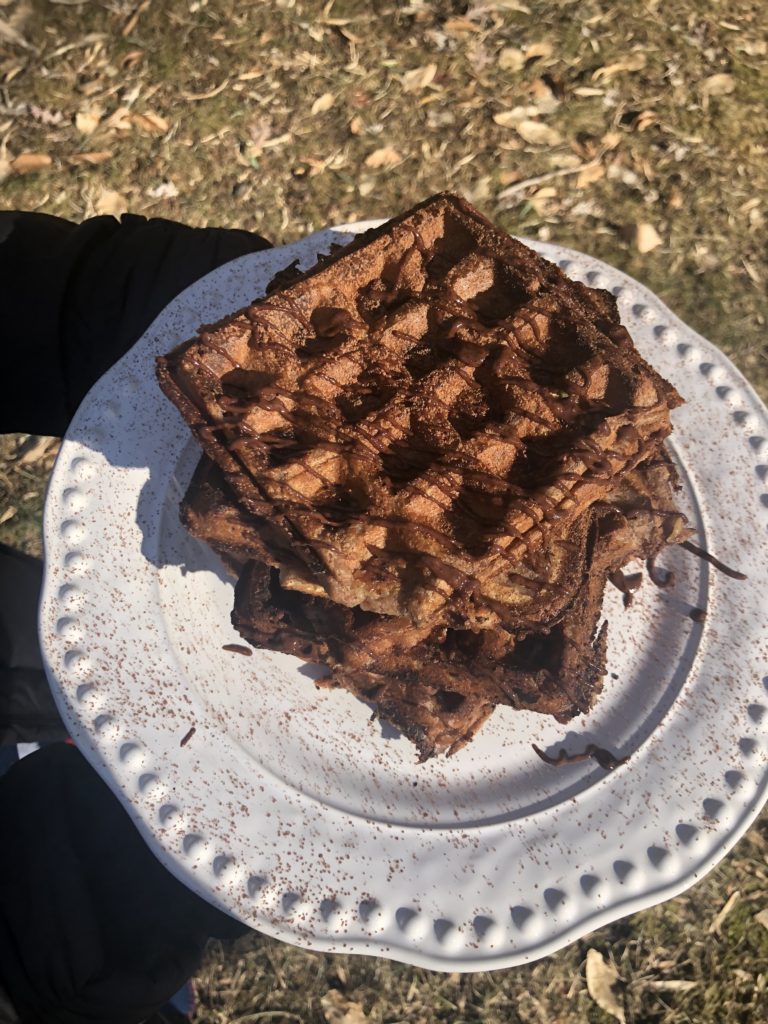 A funny story when coming up with this recipe is that we had made 1 batch for breakfast but then decided that they were so delicious we had to share our recipe. We typically try to document the process as well as the finished product, but this time we also decided to make a video as well (you can find it on our social media platforms). Since the lighting in our house isn't great, we moved the production outside into the 25 degree weather. We were both layered with 3 coats and a blanket wrapped around our legs. But this isn't where the craziness stopped; we wanted to experiment with a few different types of flour and so we tried using almond flour. Do NOT use almond flour! We spent about 15 minutes cleaning up our waffle iron after this fiasco (we still ate them because the flavor was delicious) but had to make more batches. The waffle iron had to cool outside for a few hours because not only was it still super hot, but their were burnt bits of waffle all over it! Anyways, these waffles were definitely worth the trouble and are perfect for a quick snack on the go or for breakfast!
Ingredients (makes 4 waffles):
1 ripe banana (plus a few more slices for the middle of the waffle)
1 cup flour (all-purpose works best)
1 cup milk (we prefer unsweetened almond milk or oat milk)
1 teaspoon cinnamon
1/4 teaspoon baking soda
1/2 teaspoon baking powder
2 tablespoons chocolate chips
Directions:
Mash the ripe banana in a bowl until it is mostly smooth.
Mix in the flour, milk, cinnamon, baking soda, and baking powder.
Grease your preheated waffle iron and evenly pour about 2/3 of the batter onto the pan.
Place the banana slices and chocolate chips evenly then cover with the rest of the batter.
Cook until nice and crispy and golden (this varies depending on your waffle iron).
Enjoy plain or with toppings like cocoa powder, almond butter, or more bananas!
Emily & Lyla 🙂