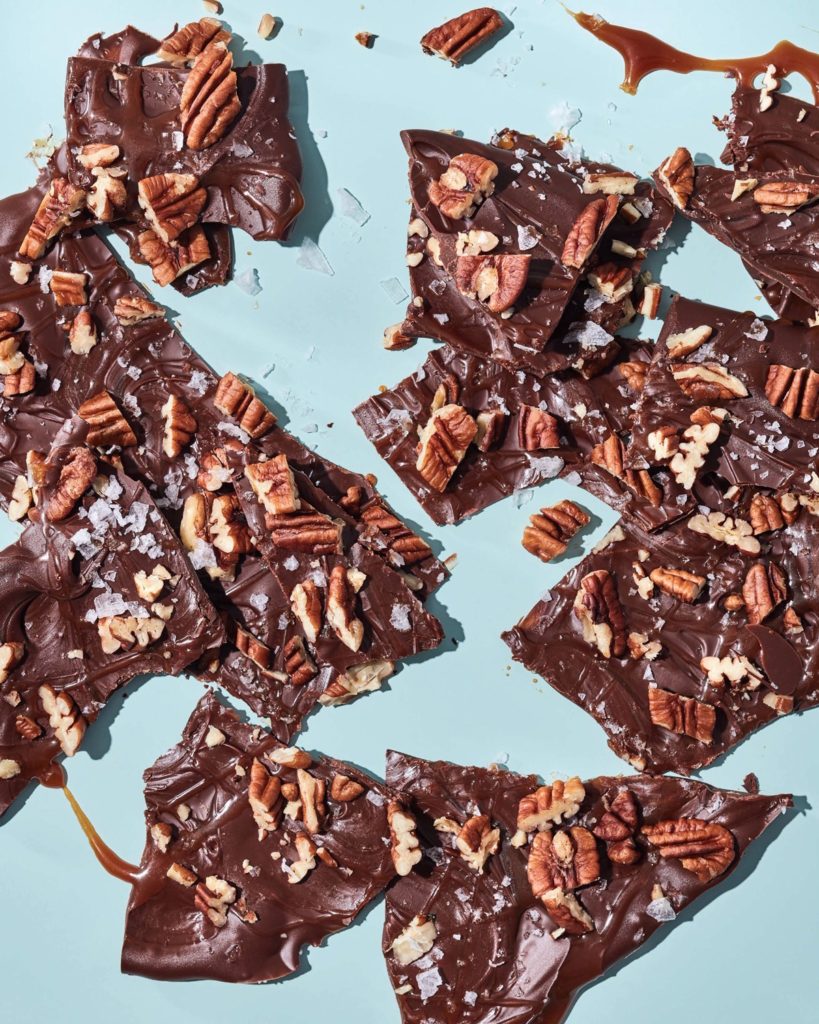 PREP TIME: 5 minutes
COOK TIME: 5 minutes
FREEZER TIME: 40 minutes
Here is a sneak peak of a recipe from our cookbook! This bark makes a really nice gift at the holidays. We pack several pieces of the bark in a clear baggie, put the baggie inside a Chinese take-out carton, and add a ribbon.
Ingredients:
1 cup semisweet chocolate chips
1⁄4 cup caramel sauce
1⁄3 cup pecan pieces
1⁄8 rounded teaspoon flaked sea salt
Directions:
Heat water in the bottom pot of a double boiler over medium-high heat (see Notes). Add the chocolate chips to the top part of the double boiler and stir frequently, until smooth and creamy. This should take about 5 minutes.
Line a baking sheet with parchment paper, pour the chocolate onto the sheet, and spread the chocolate out until it's about a 1/4 inch thick. Drizzle the caramel onto the chocolate. Using a knife, cut through the caramel and chocolate to distribute the caramel flavor throughout. Evenly sprinkle the pecan pieces and sea salt onto the chocolate.
Freeze for 30 to 40 minutes and then break into pieces using your hands. You can store leftover bark in the fridge for a month.
NOTES:
If you don't have a double boiler, put a couple inches of water in a large pot and heat over high heat until boiling. Turn the burner to low and rest a metal bowl on top of the pot (the bottom of the bowl should not touch the water). Add the chocolate to the bowl over the steaming water and stir until melted. Use oven mitts to hold the bowl, because it gets hot.
You can also melt chocolate chips in the microwave. Just put your chips in a microwave-safe bowl, microwave on 50 percent power for 1 minute, stir, and then microwave at 50 percent power for 20-second intervals until the chips melt. Be sure to stir after each interval, because the chips may be melted even if they still hold their shape.
Enjoy!
Emily & Lyla