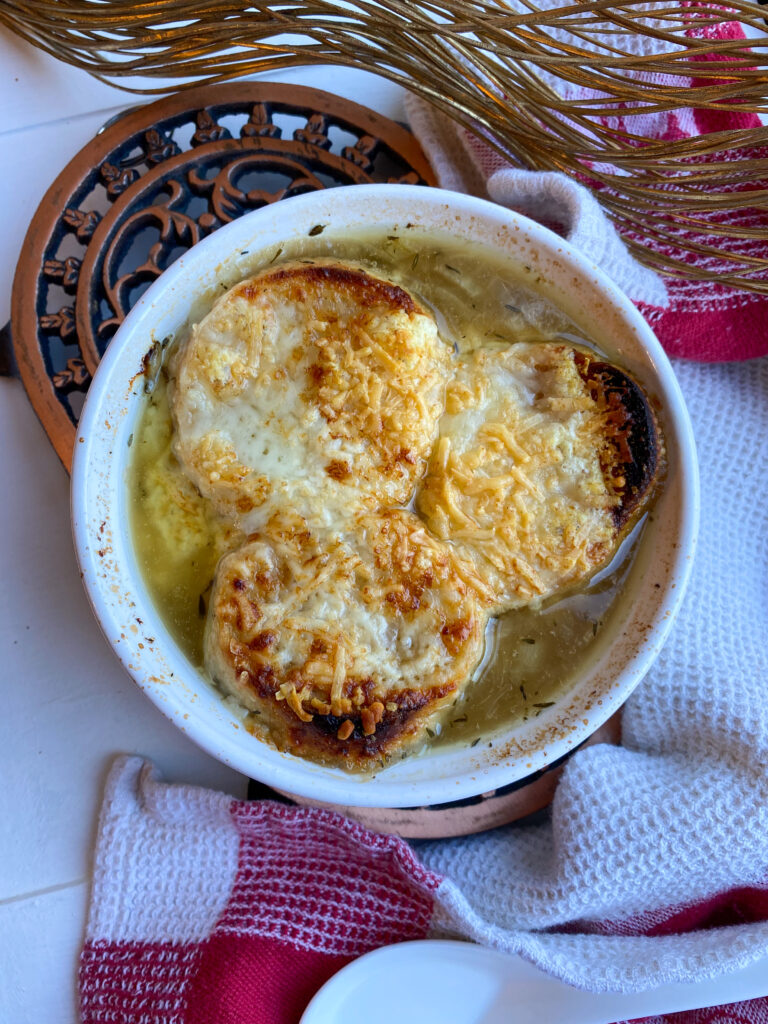 Nothing is cozier than curling up by a warm fire with a steaming, cheesy bowl of French Onion Soup. This one gets an upgrade: not only is it vegetarian for all of our fellow plant-based people out there, but it has a holiday flavor kick with a little nutmeg! Grab your soup and get ready to dig into this irresistible, flavorful, comforting bowl of goodness. Oh, and did we mention the bread on top? What French Onion Soup doesn't have it–this key goodness is just one more thing that makes you crawling back for seconds so fast!
What You'll Need
2 tablespoons unsalted butter
6 yellow onions
1/2 large shallot, chopped
4 cloves minced garlic
2 tablespoons brown sugar
1 teaspoon dried thyme
1/2 teaspoon ground nutmeg
1/2 teaspoon pepper
1/2 teaspoon salt
2 tablespoons balsamic vinegar
2 tablespoons flour
1 tablespoon cornstarch
1/2 cup white wine
8 cups vegetarian beef stock
baguette, sliced thickly
Gruyère (roughly a 1/2 lb block, depends on size of ramekins)
shredded parmesan
How To Make
Start by melting the butter in a large saucepan until it is golden and bubbly. Cut off the ends of the onion, peel, cut in half down the ends and then slice into thin, half moon shapes. Stir often while cooking for 20 minutes. The onions should be translucent and just beginning to get golden and stick to the bottom of the pan. Add the garlic, shallot, brown sugar, thyme, nutmeg, salt, pepper, and balsamic vinegar then stir and let cook for 5 more minutes. Sprinkle in the flour and cornstarch and mix until no clumps then add the white wine and mix again. Add in the broth cup by cup so that it has time to incorporate and lightly thicken. Bring the soup to a boil then turn to low and cover. Simmer for 20 minutes. In ramekins the size of your choice, lightly grease the edges and fill close to the top with the soup. Layer in slices of baguette until the surface of your ramekin is as covered as possible and do the same with thick slices of Gruyère. Sprinkle on about two tablespoons of parmesan on each. Broil on high for 10 minutes. Enjoy!