I had wanted to find a snack recipe that was not only delicious, filling, and healthy but also had no added sugar. After I had put the muffins into the oven there was still some batter leftover. I was very hungry and not willing to wait the 25 minutes for the muffins to bake, so I plopped some batter onto a non-stick skillet and made some de-lic-ious pancakes. When I tried the muffins they were also amazingly good. I was pondering whether to share the pancake recipe with you guys or the muffin one, and then it came to me, 2 way blueberry banana batter – muffins or pancakes?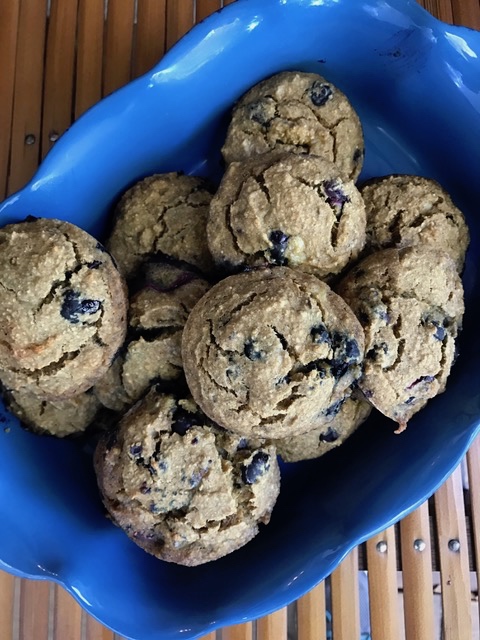 2 Way Blueberry Banana Batter – Muffins or Pancakes Recipe:
Ingredients:
2 Cups oat flour
1 teaspoon baking soda
1.5 teaspoon baking powder
1.5  teaspoon cinnamon
pinch of salt
1 Cup of applesauce (you can use sweetened or not)
2 very ripe bananans, mashed
3 tablespoons of aquafaba (or 2 eggs)
1 & 1/3 cup blueberries (fresh or frozen)
Instructions
In mixing bowl, mix together dry ingredients (oat flour, baking soda and powder, cinnamon and salt)
Add in the aquafaba, applesauce and mashed bananas and mix until everything together
Stir in the bluberries
Now you have 2 options:

Preheat oven to 350 and fill muffin tins and bake for 25 minutes OR
Heat non stick skillet and make pancakes (they are thick so make sure they cook through before you flip)

Notes:

Oat Flour – you can make your own just put regular oats in blender and blend until floury (just put about a cup or two in at a time otherwise it won't blend well.)
Aquafaba – what's that? It's the liquid in a can of chick peas. It's a good egg replacer and when we run out of eggs or want to dip our fingers in the batter to taste this is a great choice. You can't taste any difference between egg or aquafaba in this recipe. You just drain the chick peas to get the aquafaba.
Sugar – we did not use any sugar because we had really ripe bananas. But you can use sweetened applesauce if you want sweeter muffins otherwise, they are just fruit sweet from the bananas, applesauce and blueberries
By the way, we only have pictures of the muffins because we did not like our pancake pictures but wanted to get this out to you (: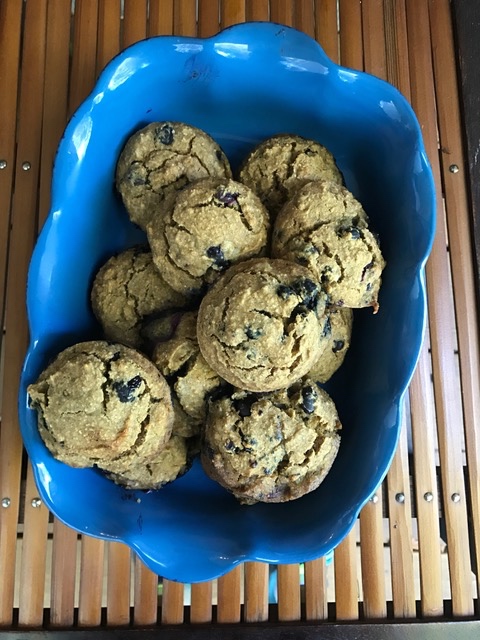 Enjoy!
Lyla and Emily, The Kitchen Twins