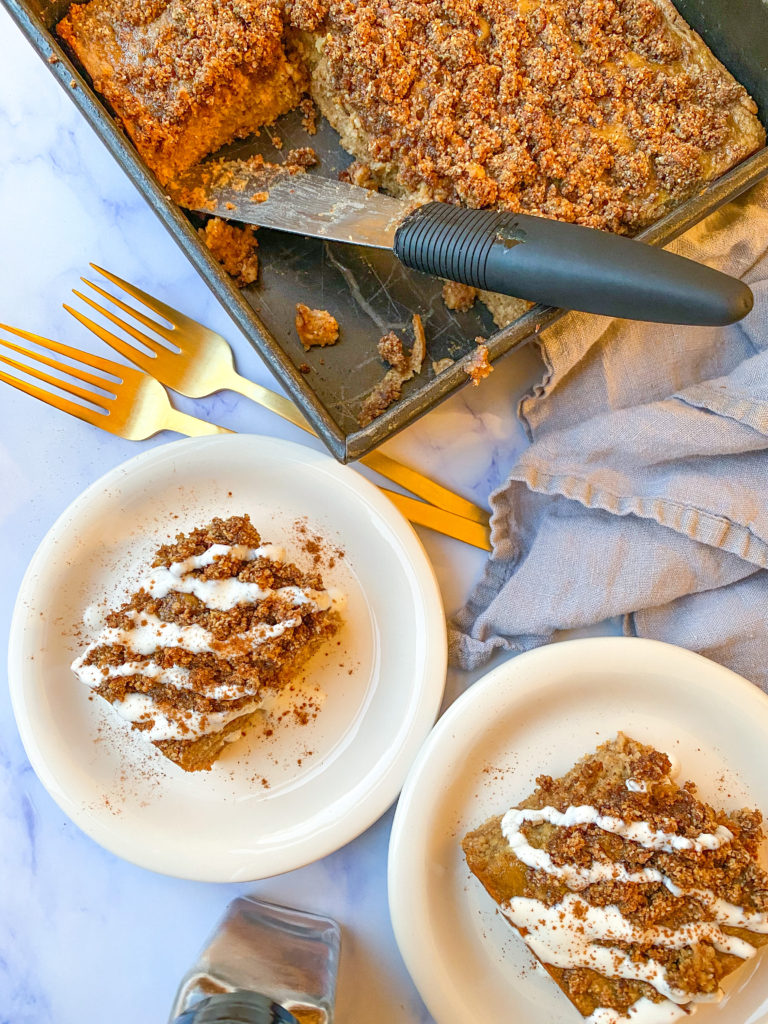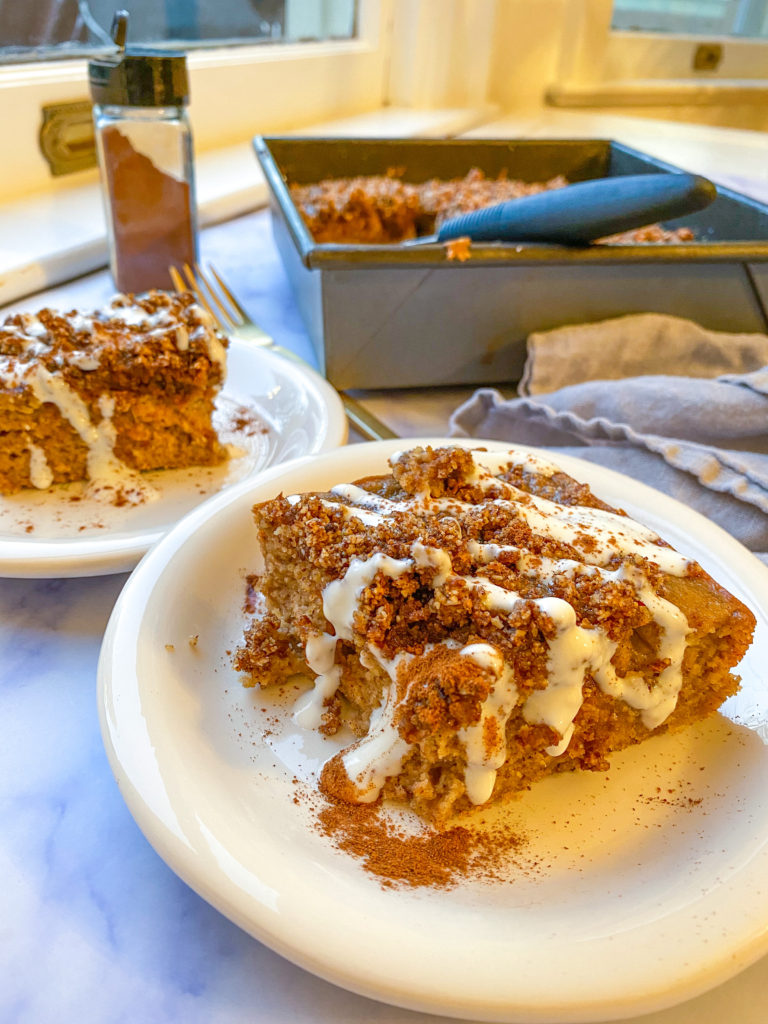 As soon as it turned from October to November, the Halloween excitement and craze was washed away (with the exception of pumpkin flavored food) and we replaced it with holiday music and cozy socks. We took our Pumpkin Crumble Bars to a new level! This has got to be our favorite part of the year hence why we drag it on for months. It is not just the December holidays, it is the whole winter season that is special to us. So here is the perfect way to bring the holiday cheer and celebration: Spiced Coffee Cake! They have three layers of goodness: a fluffy cake bottom, a custard like layer that adds a smooth and creamy texture, and a perfect crumb topping!
What You'll Need
For the base:
5 pitted dates
2 eggs
1/4 cup unsweetened applesauce
1 teaspoon vanilla
1/2 cup Greek yogurt
1/4 cup melted butter (or coconut oil)
2 cups flour
2 teaspoons baking powder
2 teaspoons cinnamon
1/2 teaspoon nutmeg
1/2 teaspoon ground ginger
1/4 teaspoon cloves
For the custard:
1 egg
1 small banana
1 teaspoon maple syrup
1 tablespoon melted butter (or coconut oil)
1/4 cup crystalized ginger
1 tablespoon creamy almond butter
1/2 teaspoon ground ginger
For the crumble:
2/3 cup almond flour
2 tablespoons brown sugar
2 teaspoons cinnamon
1 tablespoon oil
2 tablespoon pumpkin purée
1/2 teaspoon baking powder
1/4 teaspoon cloves
1/4 teaspoon nutmeg
To Make
Preheat oven to 350ºF. Grease a 9×9 baking tin. Begin to prepare the base by putting the dates in a bowl with one cup of hot water. Let these soften for ten minutes. While those sit, whisk the eggs, applesauce, yogurt, oil/butter, and vanilla until smooth. Then add this to a blender along with the dates and 1/2 cup of the water they soaked in. Transfer to a bowl and mix in the dry base ingredients until it is smooth and there are no lumps. Add this to the baking tin. All you have o do for the custard layer is blend all the ingredients until smooth then gently pour over the base. In a bowl, mix together the ingredients for the crumb topping and sprinkle evenly over the layers. Bake for 37-39 and let cool then serve.
Enjoy!
Emily & Lyla