We all loved this meal of parmesan polenta, roasted fennel and sautéed zucchini.  It was fun and easy to make. Everyone loves fennel except Emily, but that just means more for rest us. I hope that you make this simple, but delicious meal!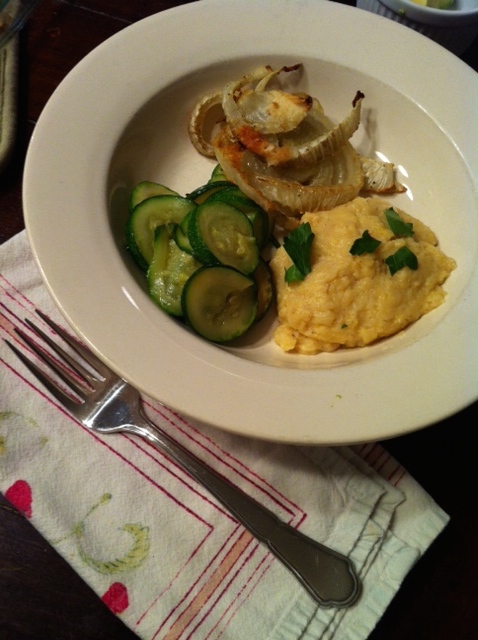 PARMESAN POLENTA
Ingredients

4 1/2  cubes of Not Chick'n Bouillon (this is vegan and gluten free) OR you could use 5 cups veggie broth 

5 cups of water (if you use veggie broth and not the bouillon cubes, do not add this water ingredient)

1 1/2 cups corn meal

1 1/3 cups parmesan

salt and pepper

parsley (optional) 

NOTE – we made double the polenta so we could have if for school lunch tomorrow.
The first step in making this delicious polenta is to dissolve your Not-Chick'n in your water on a low heat, then bring it to a boil and slowly whisk in your corn meal.

When the corn meal is whisked, so that the ingredients are combined and your mixture is smooth cover and let it cook for 10-15 minutes.

Stir occasionally.

Remove your polenta from heat and add your parmesan, salt, and pepper. Mix until your ingredients are completely combined.

Then, my favorite part garnish with parsley(optional) and.. eat (with the veggies below)!
SAUTEED ZUCCHINI
Ingredients

2 zucchini

olive oil

2 cloves garlic

salt and pepper
Directions

Slice zucchini in thin coins or half moons.

Add olive oil to sautee pan heat then add zucchini, salt and pepper.

Sautee for about 10 minutes then add minced garlic at the end and sautee for about a minute.
ROASTED FENNEL (this is Giada's recipe and we love it. We posted fennel recipe this last year on our blog)
Ingredients:

Fennel

Parm (veggie kind)

Olive Oil

Salt & Pepper
Directions
Preheat oven to 375

Slice fennel into 1/4″ slices (we did not do this part and but liked the thinner slices because they melt in your mouth more)

Put in greased glass baking dish

Top with salt and pepper then top each with good sprinkle of parm cheese then pour a little olive oil on each.

Bake for 45 minutes
Blogger, chef, and a new entrepreneur,
           Lyla Allen 🙂 🙂 🙂 🙂