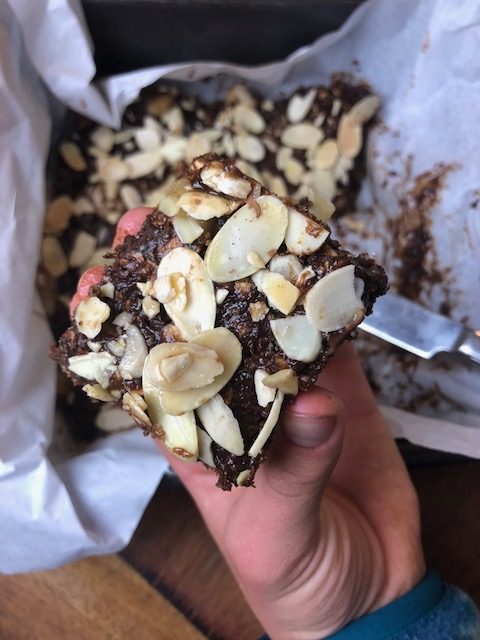 Besides the fact that these bars are great fuel, they are super delicious and probably the best chocolatey goodness you are ever going to have. They have taken a while to perfect, but this recipe is absolutely delicious and you can taste each ingredient! Enjoy making and eating; got to say, though, we are liking the eating!
Ingredients
3/4 cup old fashion oats (not quick oats)
1/4 cup cocoa or cacao unsweetened powder
2 tablespoons chia seed
1 cup creamy almond butter
1/4 cup plus 1 tablespoon maple syrup
1 ripe banana diced
Topping:
1/4-1/3rd cup sliced almonds
Instructions
In a medium bowl, add the oats,  cocoa (or cacao), chia and mix well.
Stir in the almond butter and maple syrup and mix until all incorporate.
Add in the diced banana and stir until evenly distributed.
Line a square pan with parchment paper and add the mix, pressing down so evenly distributed.
Sprinkle the sliced almonds on top of the batter.
Freeze for about 1 hour until solid and then serve or refrigerate there after.
Makes about 16 bars. Store in fridge.
These will be like super food super fudge and super delicious (and they are gluten free, vegan, and healthy)!
– Emily & Lyla