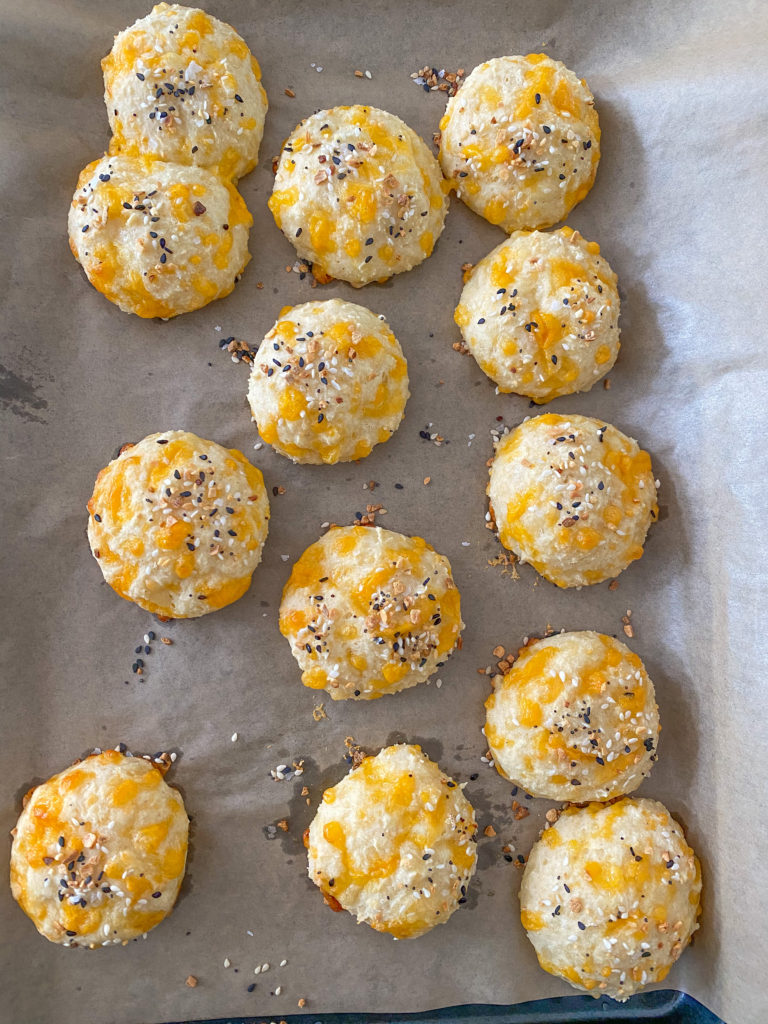 When we say these are addicting, we mean it. The minute they come out of the oven, we have to hide the batch so that they are not devoured within minutes of being finished. Not only that, but they make your kitchen smell so incredibly good. And, of course, you can never go wrong with too much cheese and these are loaded with three different kinds. The texture is light and the flavor is spot on. If we are being completely honest, just the two of us can eat the entire batch they are that irresistible! You can even slice them open and spread on some butter and honey for a little extra decadence!
What You'll Need
1 egg
3/4 cup plain, greek yogurt
1/2 cup shredder sharp cheddar
1/4 cup shredded mozzarella
1/4 cup grated parmesan 
2/3 cup flour 
1 teaspoon baking powder
everything but the bagel seasoning
How to Make
Preheat oven to 350ºF. In a medium sized bowl, whisk your egg and yogurt together. Then add in the cheeses until thoroughly combined. Add in the flour and baking powder then stir again until combined, making sure not to over mix it. The batter should be a little sticky. Take about 2-3 tablespoons of batter and roll into balls. It should make about 11-13 puffs. Place on a parchment lined sheet and sprinkle with the seasoning generously. Bake for 25 minutes, let cool (if you can resist!) and enjoy!