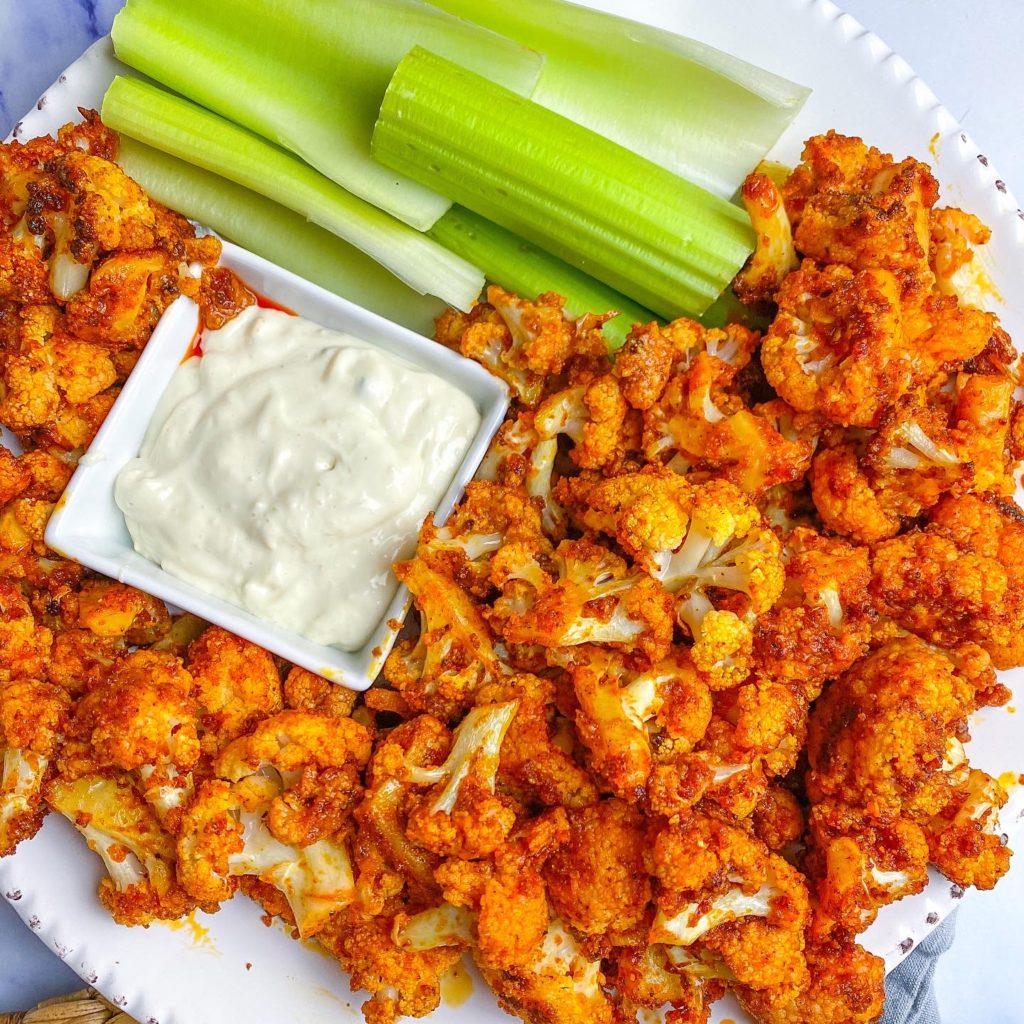 The Super Bowl. It is one of the most exciting foodie days of the year. You need to be prepared to watch hours of football, though, and that is where we come into the game. Snacks, you need a ton of them. And when we say a ton, we mean it. One of the most renowned snacks for the Super Bowl is Buffalo wings. They are hot, spicy, and crunchy. Being vegetarian is hard thing on the big day, but we have the perfect solution.
Our dad is from Buffalo, so he knows all the tricks to making the perfect Buffalo wings and even though he likes the traditional meat ones, even he can't resist these cauliflower wings. We have researched about meatless chicken and tried it, but cauliflower is the best way to recreate wings. The cauliflower is soft on the inside, but crispy on the outside. Our sauce makes them nice and spicy and mouth-watering, the perfect big (vegetarian) snack for game day.
What You'll Need
cauliflower, 1 head cut into bite size florets
olive oil (about 3 Tablespoons to coat the cauliflower)
1/4 cup almond flour (ground finely)
1 tablespoon corn starch
1 tablespoon smoked paprika
1/3 cup Frank's hot sauce
1/4 cup unsalted butter
To Make
Preheat oven to 450ºF. In a large bowl, toss the cauliflower with the olive oil. In a separate bowl, mix together the almond flour, corn starch, and smoked paprika then coat the cauliflower with this mixture. Spread it out on a lightly greased baking sheet and bake for 18. minutes. While they are cooking, melt the butter with the hot sauce and set aside. When the cauliflower is done cooking, put it back in the bowl and coat with the hot sauce and butter, leaving a little to drizzle on top when they are finished cooking. Bake for another 5-8 minutes then add the rest of the hot sauce and butter mixture. Serve with blue cheese or, our favorite, plain greek yogurt and celery.
Enjoy!
Em & Ly