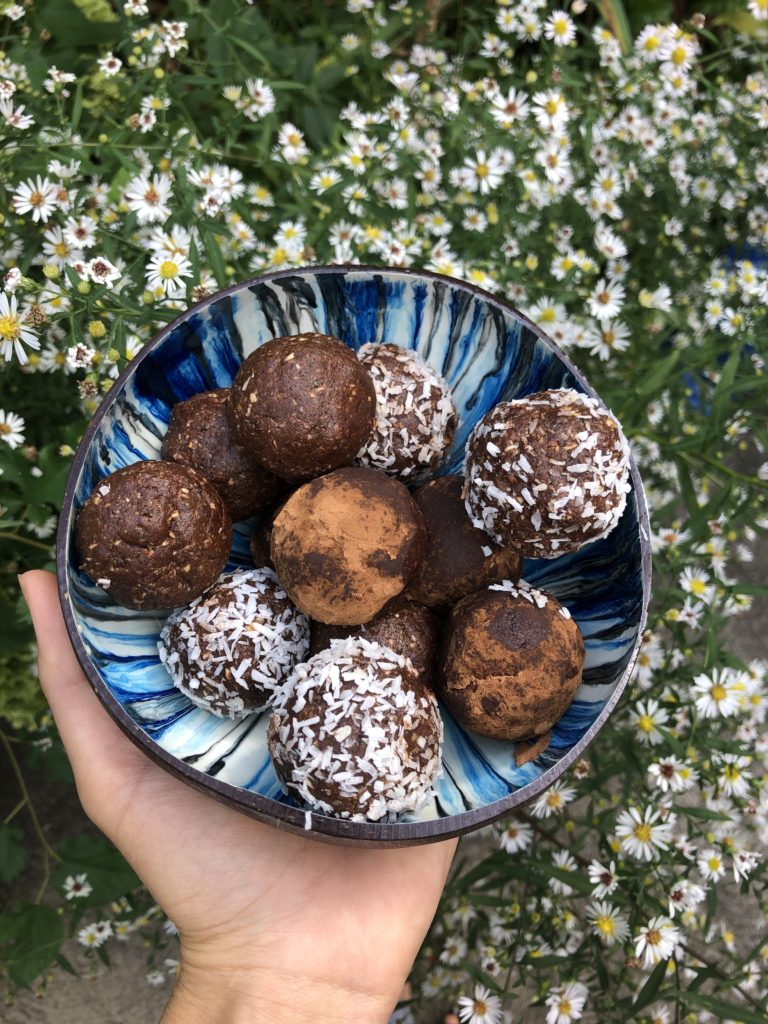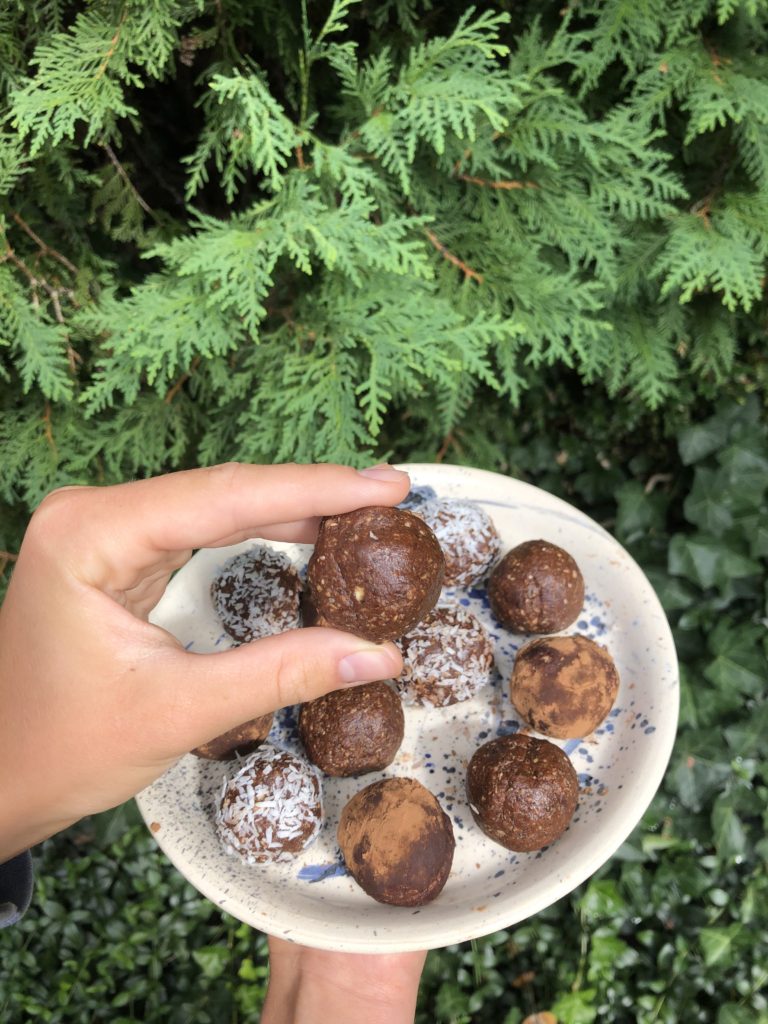 Yes, it may be fall, but that doesn't mean that everything needs to be pumpkin! We make these Brownie Bliss Balls all the time and love how versatile they are. Whether you roll them in cocoa or coconut or eat them plain, they melt in your mouth. The perfect snack and grab-n-go bite, we love enjoying the decadent taste any time. Grab your food processor, throw the ingredients in, roll them and eat!
We add our favorite, healthy ingredients to these that will keep you fueled all day long. Hydration and omega-3 from the chia seeds and great fiber from the dates add to the nutritious value of these. Plus, the oats are rich in antioxidants. 
Time: 10 minutes
Makes: 12-14 balls
Notes
If you don't have almond butter feel free to use another nut butter but note that it may change the taste. We like to use almond butter because it had more of a neutral flavor and you can taste more of the dates and chocolate.
Make sure your almond butter is creamy and on the runnier side so you don't have dry dough.
If your dough is dry add an additional tablespoon of almond butter or a teaspoon or two of water to moisten it up.
When rolling we find it helpful to wet our hands so the dough doesn't stick and make a mess.
What You'll Need
• 1 cup pitted dates
• 1/2 cup old fashioned rolled oats
• 1 tablespoon chia seeds
• 1/4 cup unsweetened cocoa powder
• 1/2 tablespoon ground cinnamon
• 1/2 cup creamy almond butter
To Make
Blend dates in your food processor until ground. The texture should be coarse but sticky. Add the chia and oats and blend until well combined and the oats are finely chopped (up to 1 minute). Add the cocoa powder and cinnamon and blend for another 10 seconds. Add your almond butter and blend until one ball forms, about 1 minute. Using a cookie scoop or tablespoon roll dough into balls. Optional but recommended: add a chocolate chip or almond to the center of your ball for a sweet surprise. And/or (we do both!) roll your balls in shredded coconut, cocoa powder, or even melted chocolate.
Enjoy!
Emily & Lyla