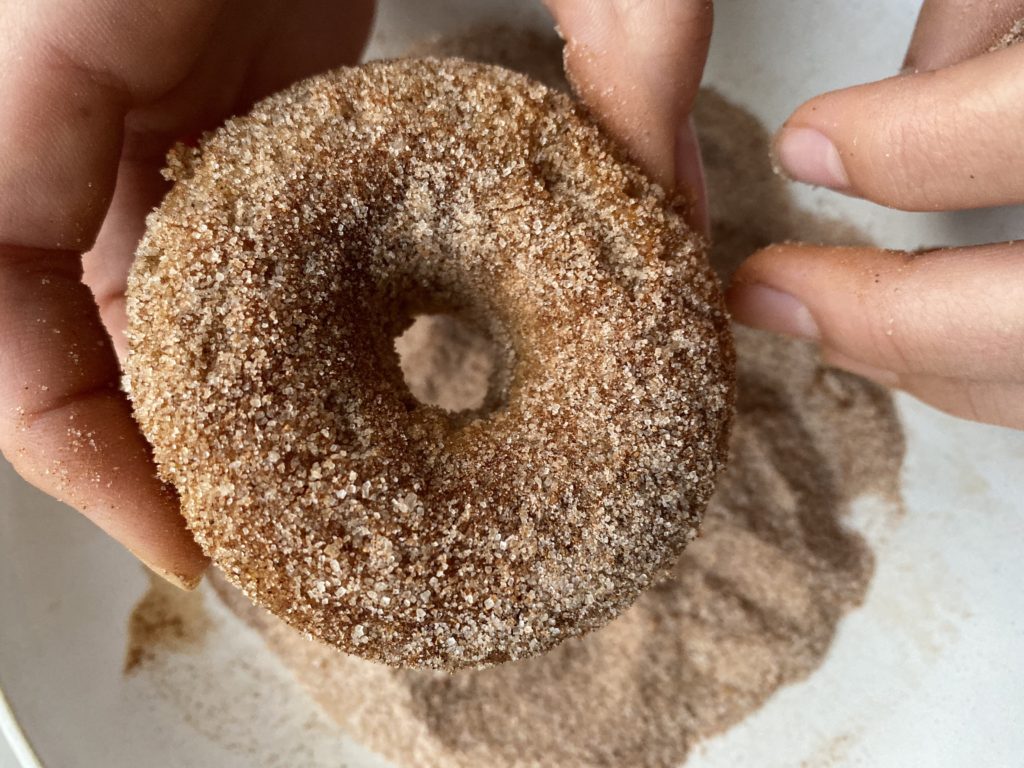 Adding to our fall collection – Healthy Apple Cider Donuts! The perfect blend of spices with the extra boost of apple from BOTH apple cider and apple sauce. These light and fluffy donuts get a coating of cinnamon sugar and melt in your mouth. It's hard to stop eating them because of how addictive and flavorful they are. 
What You'll Need
• 2 cups apple cider
• 2 1/2 cups all-purpose flour (see notes for gluten-free option)
• 1/2 teaspoon ground nutmeg
• 1/2 teaspoon ground ginger
• 2 teaspoons cinnamon
• 1 teaspoon baking soda
• 2 1/2 teaspoons baking powder
• 1/4 cup unsweetened cinnamon apple sauce (see notes)
• 2 large eggs
• 1/4 cup pure maple syrup
• 3 tablespoons melted butter or vegetable oil
For Coating
• 1/2 cup white sugar 
• 2 tablespoons ground cinnamon
To Make
Preheat oven to 350 degrees F. In a small saucepan, bring the apple cider to a boil over high heat, reduce to medium-high, and boil for 15 minutes. Stir consistently. Meanwhile, in a medium-sized bowl, mix the dry ingredients together. In a large bowl combine the wet ingredients including the reduced apple cider. Make sure the apple cider and butter are cooled before adding them. Add the drys to the wets and whisk until combined and there are no lumps. Note that the batter may fizz up because of the reaction from the apple cider and baking levants. Grease donut pan and fill 2/3 of the way full. Bake for 15-17 minutes, or until a toothpick comes out clean. Cool for 5 minutes and meanwhile mix together coating ingredients in a shallow bowl. Coat each donut in the cinnamon sugar and place on a cooling rack until fully cooled. Enjoy!
Lyla and Emily
Notes
• For a gluten-free option, you can use cup4cup flour or Pamela's baking and pancake mix adding with only 1/2 teaspoon baking soda and 1 teaspoon baking powder.
• We like to use unsweetened since we are already using maple syrup and because we like our sweets a little less sweet. But if you are used to sweet sweets or only have sweetened apple sauce that is totally fine.