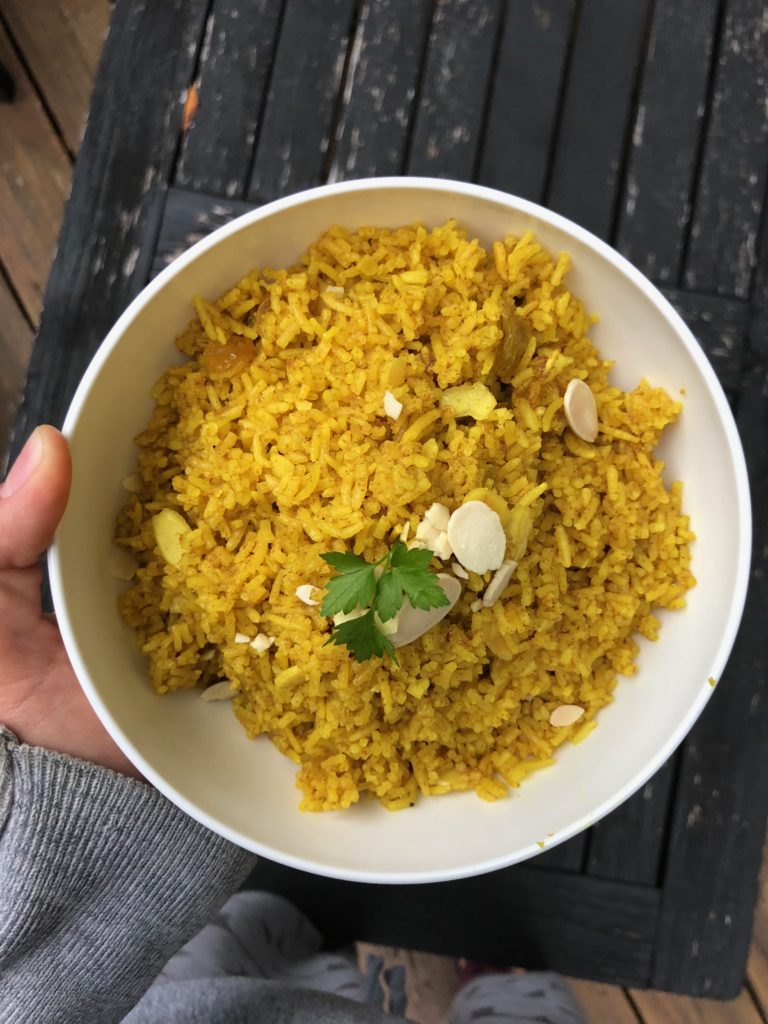 Feeling like our life now revolves completely around our school & sports schedule! It's crazy how late we have been getting home after practice and then have to do our homework – haven't had a ton of time to cook 🙁 But on nights like tonight when we have a day off from practice and not much hw, what's a better way to spend our time? Have been making this rice practically all week and in love with it – breakfast, lunch, dinner, snack, you name it and we have eaten it then! Probably best for dinner as a main or side – but dinner for breakfast? Our favorite!
Ingredients:
1 1/2 cups basmati rice
1 2/3 cup of coconut milk
3/4 cups water
1 1/2 teaspoon turmeric
1 teaspoon cinnamon
1 teaspoon curry
1/4 teaspoon salt
1/4 cup sliced almonds
1/4 cup golden raisins
1/2 tablespoon maple syrup
Directions:
Put the rice, coconut milk, water, turmeric, cinnamon, curry, and salt into a sauce pan.
Cook these ingredients according to the directions instructed for the rice.
After it is fully cooked, add in the slivered almonds, golden raisins, and maple syrup then stir.
Super quick & simple!
Enjoy – Emily and Lyla 🙂