These artichokes are to-die-for. They are crispy, herby, and lemony. They melt in your mouth and are perfection with a cooling lemon dijon aioli.  My mom had made these before, but it was a totally different recipe and never quite as delicious (sorry mom!) Today I was home with a bad cold, and I made myself a full batch! That was about ten artichokes. I even only let my mom try one! I love these and hope you do too. My recipe is below the pictures on how to make them. There is one very key part below on how I make them (hint it's the lid!)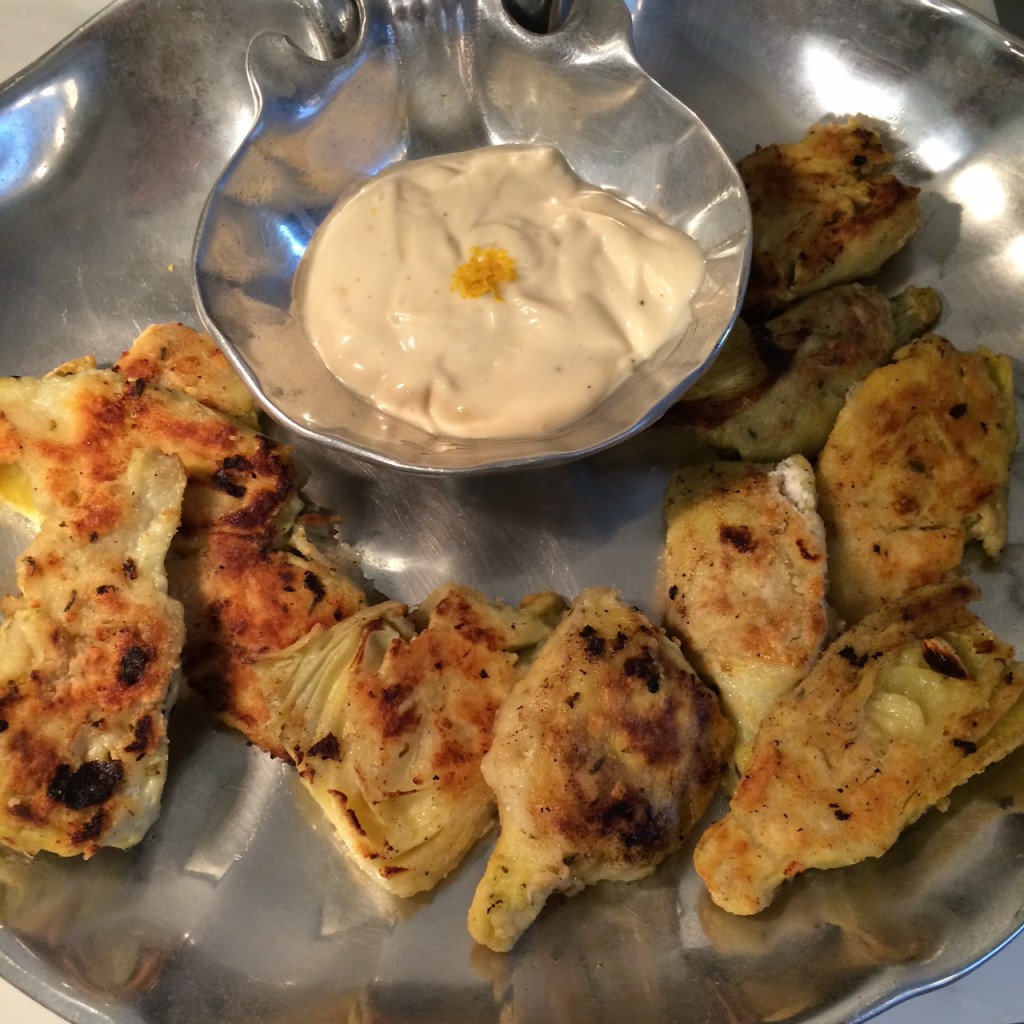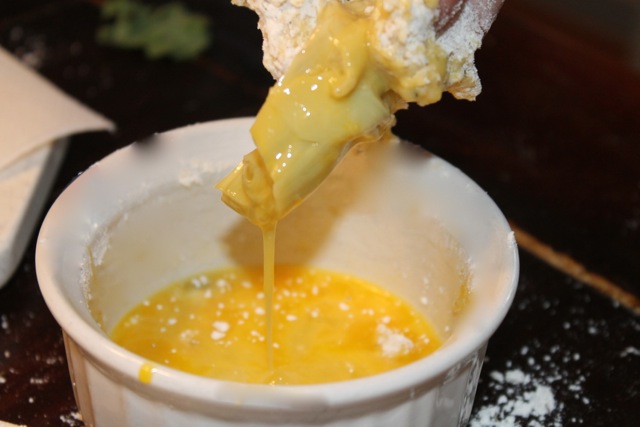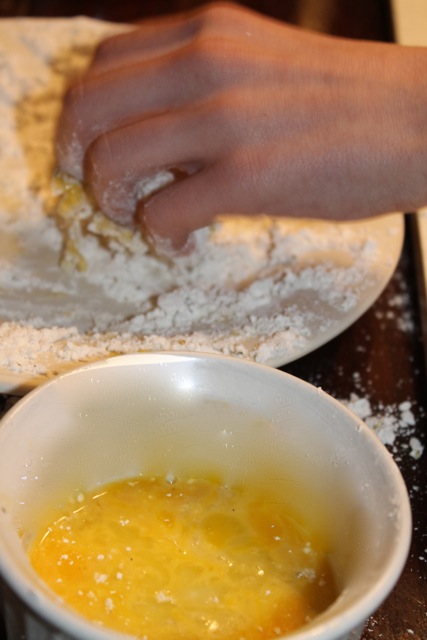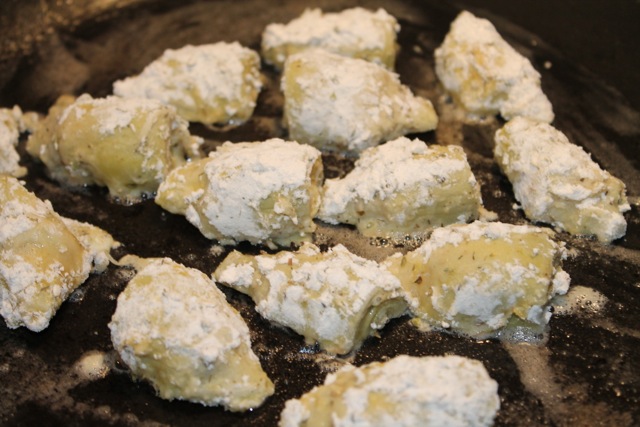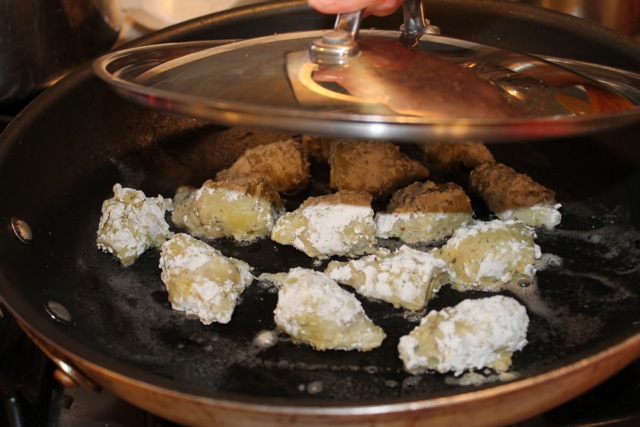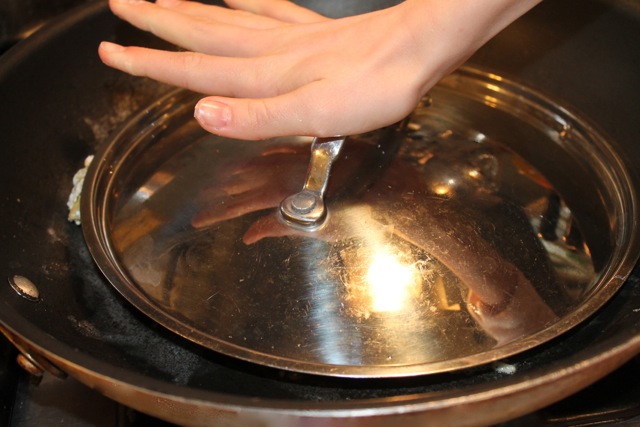 1 can artichoke hearts
1 egg
2/3  cup of flour (we use gluten free Pamelas but you can use regular white flour)
1 1/2 teaspoon of dried oregano   \ Or more a bit more
1 1/2teaspoon of dried thyme      /if you are like me.
3 Tablespoon butter, unsalted
1/2 a lemon plus extra for garnish
Preparation:
Strain and rinse the artichokes. If your hearts are whole, slice them in half so that there is heart on both sides.
In a small bowl, crack and whisk your egg.
On a medium-sized plate pour flour, oregano, and thyme. Carefully stir with a spoon.
Dunk the halved-artichokes into the egg.
Now place the artichoke on the flour plate. Pat the flour on the sides lightly until coated.
Put the artichoke on a paper towel flat side down and repeat steps 4 and 5 until all artichokes are coated.
Heat a nonstick pan on medium and put 1 1/2 Tablespoon of butter in. Let melt and coat the pan.
Place the artichokes into the pan. Be careful not to overlap, and careful not to put far apart.
Put a large and flat greased pan cover on the artichokes and press down. This is key to make them nice and crispy. See pictures above.
Once the one side of artichokes are golden and brown and crispy and decadent, flip them and add the remaining butter in the spaces of the artichokes. Squeeze the 1/2 a lemons juice directly over the artichokes. Press the lid.
Once crispy and brown on both sides, remove from pan and place on a paper towel again just to take off any excess butter. Squeeze a little bit more juice on the artichokes.
Let cool and enjoy with the aioli below!
Lemon Dijon Aioli
Ingredients:
1/4 cup mayonaise
1 – 1 1/2 Tablespoon dijon mustard
5 cranks pepper
couple pinches of salt
1/8 teaspoon minced garlic
2 teaspoon lemon zest (Zest- don't you just love that word?)
1Tablespoon lemon juice
All you need to do is mix this and enjoy it with practically anything! After we finished our artichokes, we dipped vegetables in it.
Hope you enjoy these two recipes! -Emily 🙂