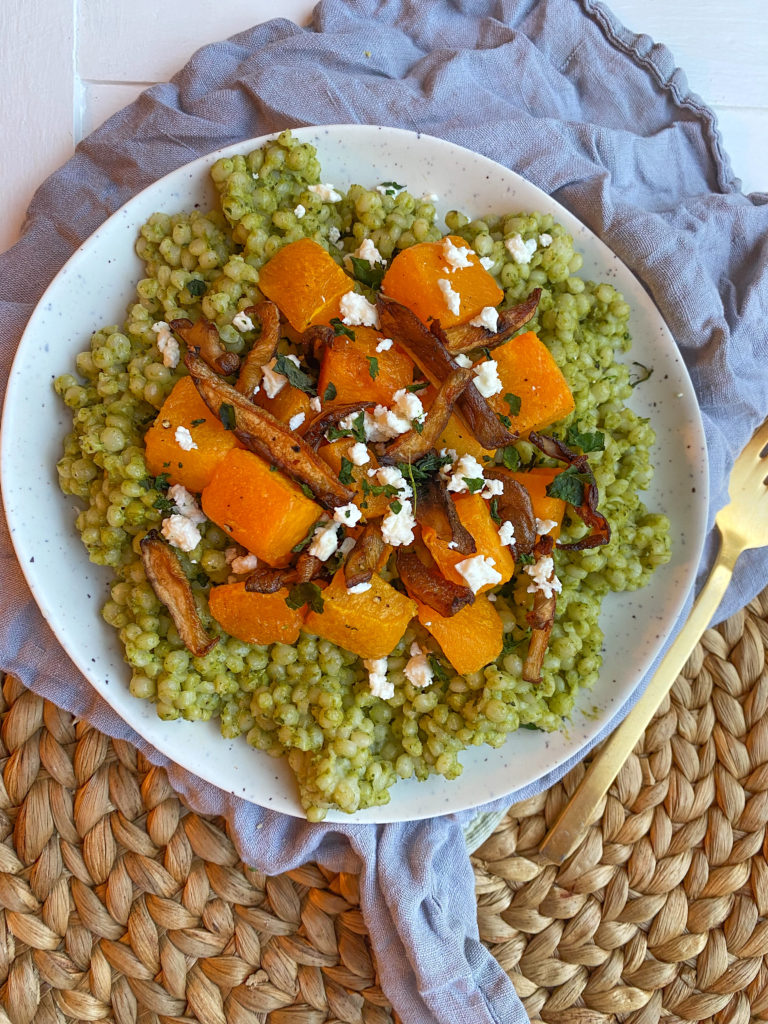 Our favorite fall flavors are coming together in this irresistible dish. What is better than a creamy sage cashew sauce on pearl couscous loaded with the most seasonal veggies! It is also easy to make vegan (a huge plus!) and this sauce can be put on GF pasta as well (or anything honestly, toast is a go-to as well). We are jumping right into the fall season with this meal and hope you are too!
What You'll Need
2 cups pearl couscous, cooked according to directions
3 1/2 cups peeled and chopped butternut squash (easy to buy pre-cut)
1 1/2 cups shitake mushrooms, thinly sliced and de-stemmed
1 tablespoon olive oil
salt & pepper
For the sauce:
1/2 cup toasted cashews
3/4 cup (almond) milk
2 tablespoons fresh sage
3 tablespoons fresh basil
1 tablespoon butter (vegan if desired)
2 tablespoons olive oil
1 tablespoon lemon juice
2 cloves garlic
1 teaspoon honey
1/2 teaspoon salt
a few cranks of pepper
How To Make
Preheat oven to 400ºF. On a baking sheet, spread out your butternut squash and drizzle half a tablespoon of the oil. Sprinkle with salt and pepper and bake for 35 minutes, flipping halfway. When those are done, preheat your oven to 375ºF and bake the mushrooms with the rest of the oil and some salt and pepper for 20 minutes, stirring halfway. Then broil the mushrooms on high for 10 minutes, stirring halfway again. Let cool to crisp. We recommend making the couscous while these are both baking. To make the sauce, first start by slicing the sage and adding to a small saucepan with the butter. Melt on medium heat and let sauté for about a minute, it will crisp up quickly. Add to a blender with the rest of the ingredients for the sauce and blend until very smooth. To serve, stir the sauce into the couscous when ready to serve. If you leave it sitting, the couscous will absorb the sauce! Top with the mushrooms and squash – we also like adding crumbled feta and some more fresh basil. Enjoy!