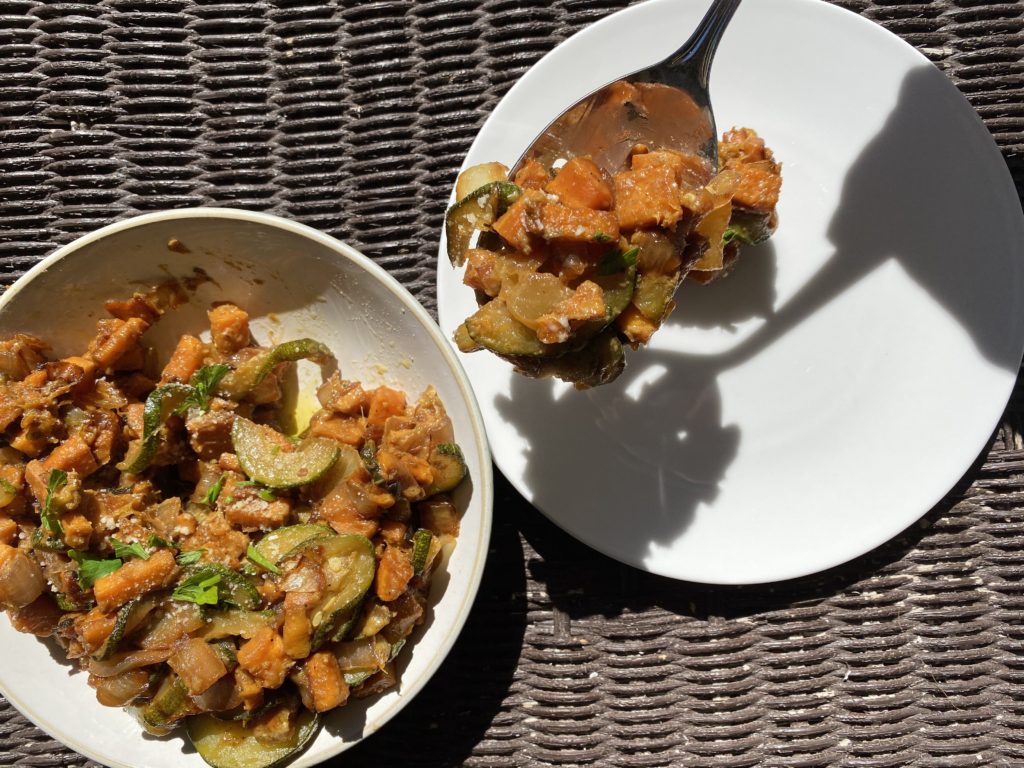 There's something about being served a warm bowl of flavorful veggies that you just want to curl up on the couch and watch your favorite show. Well, every time we eat this, that is exactly what we do. We love the fall combinations of sweet potato that we grab fresh from the farmer's market on Sunday and the addition of sage, which we have begun adding to almost all our savory dishes. So enjoy this delicious dish and get comfy on the couch!
What You'll Need
• 1 large sweet onion
• 1 tablespoon butter
• 1 medium sweet potato
• 1 large zucchini
• 2 tablespoons olive oil
• 2 tablespoons soy sauce
• 3 minced sage leaves
• 1/2 teaspoon cumin powder
• 1/4 teaspoon salt
• 1/8 teaspoon pepper
• 2 tablespoons parmesan
• 2 tablespoons nutritional yeast
• 1/4 teaspoon fresh minced garlic
To Make
Peel and chop the onion. Add the butter to a pan on medium heat and wait for it to brown. Add the onion and caramelize for 10-12 minutes. Chop the zucchini and sweet potato into small, bite sized pieces and add along with the olive oil, soy sauce, sage, cumin, salt, and pepper. Sauté for 15-18 minutes, stirring occasionally. Then sprinkle in the parm, nutritional yeast, and garlic and cook for another 2 minutes. Top of with a sprinkle of fresh herbs or even more parm. It's that easy!
Enjoy with an over easy egg, on toast, with rice or quinoa, or simply by itself.
Emily & Lyla