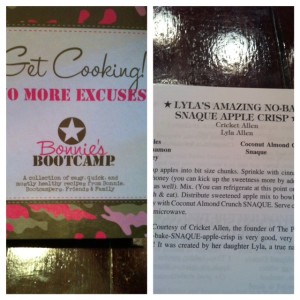 This recipe is an original, and by original I mean it was thought up of by me, Lyla. No Bake Snaque Apple Crisp was put in a cook book, and that cook book was Bonnie's Bootcamp Get Cooking. When my recipe was first put in to a cookbook I was inspired to "Get Cooking" more! I hope you have fun making this recipe, but most of all I hope you enjoy eating it!
This recipe is well enjoyed with ice cream.
Serving Size: about 1 person
This recipe is simple. You will need: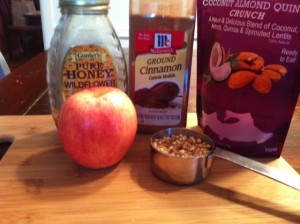 1/4 Cup Coconut Almond Quinoa Crunch (Snaque)

A couple squirts Honey

A dash cinnamon

1 Apple
First, dice the apples into bite size pieces. Then, put the apples into a bowl and pour 1/4 cup of Coconut Almond  Crunch on. Mix that around until the apples and crunch are firmly mixed. After that, you add in the honey (1 squirt of honey does well.) Time to add in the cinnamon (a dash goes a long way.)  Finally, mix the ingredients until firmly mixed.
Enjoy!!!!
Lyla:):):)