We eat these delicious date drops all the time! You probably noticed from our school lunch pictures.
We learned the recipe in our school's Food and Garden Club. Everybody loved them.  We bring these date drops for treats and energy during game days, bikes, hikes, picnics, and of course for an every day school snack.  They are also really healthy and taste like a treat. Hope you try them and have fun making them.
Delicious Date Drop Ingredients:
1 cup pitted dates (bulk bin with pits are usually less expensive but you have to pit them)
1/2 cup walnuts
1/2 cup oats
2 Tablespoons water
1/2 cup toasted shredded coconut
chocolate chips (optional). Or put sweetened cacao nibs in them in summer because that doesn't melt.
Instructions:
Put pitted dates, walnuts and oats in Cuisinart, and mix until totally combined. Then add water. Your finished product should be a sticky "cookie" dough. Roll dough into small drops or balls.
Roll in coconut and stuff about 2 chocolate chips inside. Enjoy! Makes about 16 date balls.
Store in refrigerator. Also you can put it in refrigerator before you make the drops to make less sticky.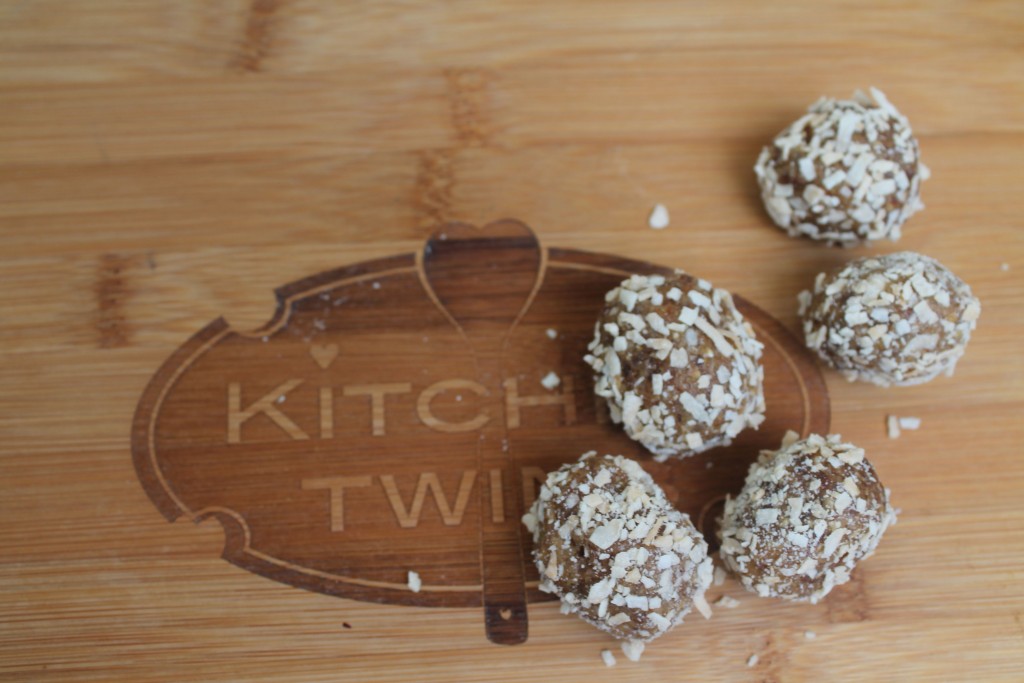 These are gluten free and vegan if you use vegan chocolate chips.
Have a great day.
Lyla and Emily, The Kitchen Twins