We love beans and figured it was a good day to post one of our favorite bean dip recipes since it is the weekend for the biggest snacking occasion ever – the Super Bowl.  We won't tell you who we are for because that might upset people, but we will tell you who we wish was playing in it – The Buffalo Bills (our dad is from Buffalo).
About the dip – it's a delicious creamy smoky black bean dip that is a perfect to share with friends tomorrow – or just enjoy by yourself.
P.S. we know this may not be the most beautiful looking dip, but it is delicious!
Ingredients
1 can black beans, drained and rinsed
3 Tablespoons olive oil
1 Tablespoon of the solid part of canned coconut milk (*if you open the can and it  does not have the solids, just make it 3 Tablespoons of the liquid below)
2 Tablepsoon of the liquid part of canned coconut milk*
3/4 teaspoon Smoked Paprika (make sure it's smoked)
1/8 teaspoon Ground Ginger
1 teaspoon Lemon Juice
Couple pinches of salt
Sprinkle with Smoked Paprika for the garnish
Instructions:
Add all ingredients to a food processor and blend until super creamy and smooth. Serve with veggies and tortilla chips.
This dip is also vegan and gluten free. If that's not your thing, we think you'll still love the dip!
Enjoy and Good Luck to the teams tomorrow!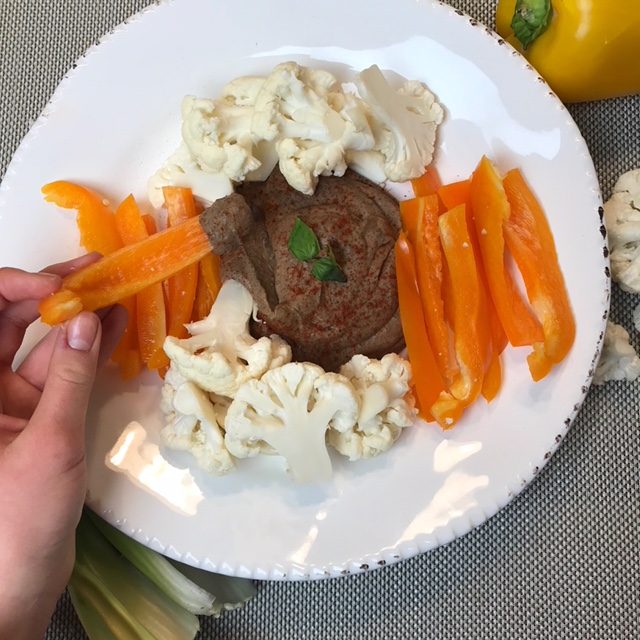 Thanks
Lyla and Emily
The Kitchen Twins